The corniche of hairpin turns from Sorrento to Ravello has to be one of the most giddying, toe-clenching drives in the world. A series of vertical cliffs, rising as high as 300 metres, plunge into an impossibly blue Tyrrhenian Sea as the seaside towns cling to the hills amongst a landscape of terraced olive and lemon groves. Flaunting some the most spectacular scenery on the planet, the Amalfi Coast attracts swarms of visitors, especially in summer, but the crowds will never spoil it. All of the engineers in Italy couldn't widen the serpentine road—which at some switchbacks requires a three-point turn.
I am convinced that the best way to travel along  this coast is via the SITA bus system or ferry. For example, the cost for a bus ticket from Amalfi to Ravello is €1.30; the taxi fare is  €50. The bus gets you there just as fast as a car and the drivers are experts armed with very loud horns.
Serenity in Sorrento
Just 39 kilometres from traffic-congested, riotous Naples, sleepy Sorrento is the ideal spot to start soaking up the Amalfi atmosphere. And what better place than on the terrace of Grand Hotel Excelsior Vittoria with a Bellini cocktail where the hazy outline of Mount Vesuvius looms on the horizon.? Five acres of lemon-scented gardens and white-glove service recall the bygone days of the Grand Tour, for which this Grand Dame was built in 1834.
Take a leisurely wander through Sorrento's medieval heart around Piazza Tasso,  then stroll along the seafront promenade at Marina Grande where lots of eateries line the shore. I recommend O' Puledrone, owned by a family of fishermen, for spaghetti vongole or whatever the catch of the day.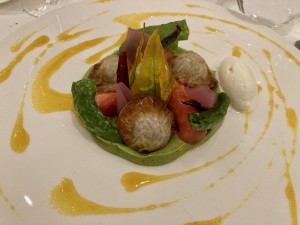 As long as You're in this neck of the Sorrentine Peninsula, an epicurean experience not to be missed is the tasting menu at Don Alfonso 1890 in Sant' Agata Sui Due Golfi. Reputed to be the best restaurant in the south of Italy, this Michelin-starred member of the Relais & Châteaux association is proudly owned by the Iaccarino family. Ask for a tour of the cellar, once a Roman tunnel, with its cheese aging room and upwards of 30,000 bottles of wine. Should you wish to savour this bit of heaven a litter longer, book a room and enroll in a cooking class.
Posh Positano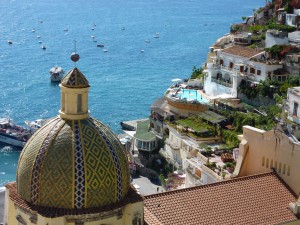 Just a few kilometres and countless perilous turns down the road, you'll reach Italy's most vertical town, Positano,  with its pastel villas spilling from the corniche.
I doubt they sell many Stair Masters in horizontally challenged Positano, so best you leave your stilettos in your bag. Wind your way through the maze of boutiques and cafés down to the Santa Maria Assunta church crowned with a green and yellow majolica dome and cupola, then head over to the Spiaggia Grande (main beach) where you'll find some of the town's best restaurants. Chez Black is a favourite. Another option is to wave down the boat with the red fish on the mast at the main jetty. It leaves in the mornings for Da Adolfo, a laid-back trattoria a few coves away. Plan to spend an indulgent afternoon enjoying the house specialty, buffalo mozzarella grilled on a lemon leaf, followed by seafood spaghetti. Enjoy a siesta on a shaded beach bed, then sip white wine spiked with peach nectar until sundown.
Perhaps John Steinbeck summed up the experience when he penned. "Positano bites deep. It is a dream place that isn't quite real when you are there and becomes beckoningly real after you have gone."
Idyllic Amalfi
Next stop is tiny, exuberant Amalfi, one of Italy's most powerful trading ports back in the 9th century, which explains the Moorish architecture of the Cathedral of Sant' Andrea that dominates the main square.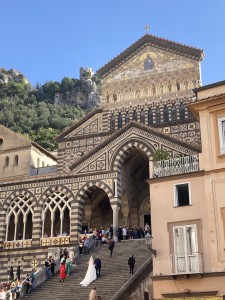 Treat yourself to lunch in a lemon garden at Pizzeria Donna Stella.  Shop for lemon souvenirs (soap, liquors, candies, pasta) as this coast is famous for its fragrant Sfusato Amalfitano  variety.
Later, join the locals in their passeggiata, a traditional evening stroll around the central piazza to socialize and perhaps enjoy a  spritz cocktail at the posh Pranzi café.
I think you'll be inclined to agree with the inscription on a plaque under the town's Porta Marina that bears the inscription, "The judgment day, when Amafitans go to Heaven, will be a day like any other."
Heavenly Ravello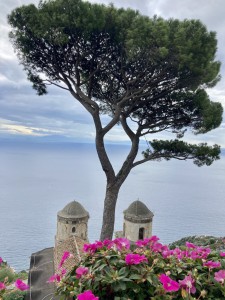 Ravello is where I'd like to have my ashes sprinkled when judgment day arrives. Perched 1,100 feet above Amalfi, Ravello has been described as closer to heaven than the sea. The town's two must-see garden glories are the Villa Cimbrone and Villa Rufolo. Author and one-time resident, Gore Vidal opined that the panorama from Villa Cimbrone is the "most beautiful view in the world." Indeed, from the Belvedere of Infinity, a stone parapet adorned with stone busts overlooking the entire Bay of Sorrento, is mesmerizing.
The cloisters of the Villa Rufolo were Richard Wagner's inspiration for Klingsor's Garden in his opera Parsifal. The clifftop aerie is now the setting for a summer concert series where the stage is suspended over the sea.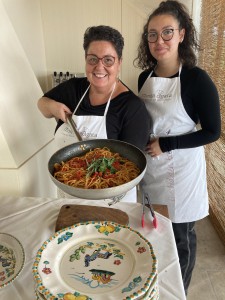 My Ravello highlight was my day at Mamma Agata's Cooking Class. Mamma, one of seven children, was  born in 1942 when post-war times were tough. At age 13 she landed a job as cook for a wealthy American socialite who often entertained the rich and famous  in her villa. Humphrey Bogart, Fred Astaire and Jackie Kennedy all swooned over Mamma's traditional dishes.  Eventually Mamma started offering cooking classes in the family home. These days Mamma has passed her wooden spoon onto her daughter, Chiara.
The setting is  idyllic. The patio overlooks terraced gardens, lemon groves and sea below. Classes start at 10:30 with cappuccino and Mamma's famous lemon cake (Bogart's favourite). Then we head into the kitchen where Chiara warns "you will taste a massive amount of food." She makes a "mother" tomato sauce that will be the base for eggplant Parmesan. Next is a Bolognese ragu that simmers for three hours. For her cherry tomato marinara sauce Chiara drops thin garlic slices into olive oil creating what she calls "Prosecco" bubbles and an aroma of "Italian Chanel" fills the kitchen. Next, she demonstrates how to make meatballs "as light as clouds."
By mid-afternoon lunch is served. I can honestly say that each dish was the best of its kind that I have ever tasted. We toasted our feast with house-made limoncello  dubbed "Italian Viagra."
Viva La Dolce Vita.