Across the wide spectrum of golf, the push is on to "grow the game" through such organizations as Play Golf America. The goal being to stem the downturn of rounds played as well as bring new or lapsed players to the game.
To increase participation, there has been outreach to such areas as inner city, underprivileged and minority youth through The First Tee Program.

Most of the avenues that are being taken, though,  are attempting to attract young golfers, not adults for who golf can appear overwhelming.
One adult group golf might want to embrace is the LGBT community. In Germany, one organization has taken it upon itself to seek out LGBT golfers . In September, the German Rainbow Open was held for the eighth straight year. According to event organizer Ottmar Meier, more than 170 people participated, an event record. Beside Germany, countries represented included the United States, the Netherlands, Denmark, Belgium, France, Spain, as well as the UK and Hong Kong.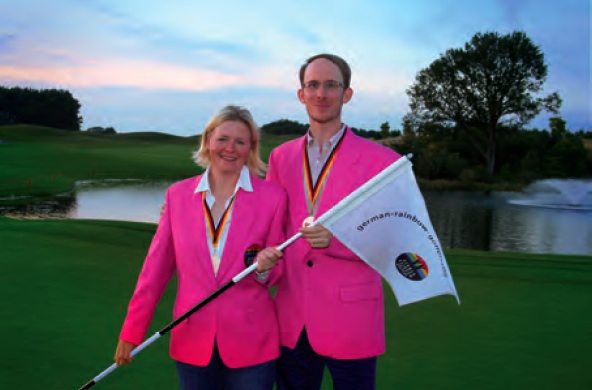 The event was held at WinstonGolf, a 45-hole resort. The WINSTONopen Championship Course is the venue of the Pon Senior Open, a regular event on the European Senior Tour event.
The Rainbow Open, an amateur-only event, includes the International German GLBT Golf Championships. This year, Stefanie Sperber from the German golf club, Hude,  took the women's gross division and Markus Ortlieb from the German golf club Heidelberg-Lobenfeld was the men's champion. In a nod to the Masters, both gross-winners were honored with the Pink Jacket.
According to Meier, who I met in 2010 while on a golf media trip to Thailand, participants need not be accomplished players. There is one gross flight and  four net flights for men and women. In addition, the free golf lessons are available for "absolute beginners." A six-hour-plus introduction course  is held on the first day of the two-day tournament when the players are on the course. Their partners or friends get to learn the game from teaching golf professionals and have the chance to play holes on the par-three-beginners course.
The event has over a dozen sponsors including Flying Club Fitters and Golf Travel Network.
The 2013 event is scheduled for Oct.5 and 6.
(Photo: courtesy Ottmar Meier.)