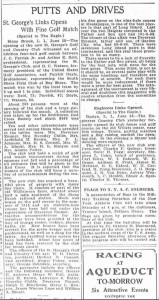 Looking through the archives of the Brooklyn Daily Eagle, I came across these articles. If they are correct, then St. George's Golf and Country Club and Engineers Country Club opened on the same day, June 27, 1917, 95 years ago. The sites are approximately 35 miles apart.
St. George's stands as one of architect Devereux Emmet's finest design while Engineers is considered among Herbert Strong's best work.
Emmet had an attachment to St. George's. He is said to have selected the site after years of searching Long Island. Emmet was governor of the club and  and lived very near the course. Emmet made alterations to Engineers a few years after it opened.
It is interesting to note that St. George's received far more attention than its counterpart. According to the story, a match was played between the team of J.C. Parrish Jr. and Arthur E. Reid, the St. George's professional, and R.C. Watson, former USGA president and Patrick Doyle, the professional from South Shore Field Club in Bay Shore.