A unique and challenging golf agronomy opportunity is there for the taking.
Irie Fields, the world's most edible golf course", is looking for a golf course superintendent. It is part of Kittitian Hill's vacation community, located in the island country of
St. Kitts & Nevis
, in the West Indies

According to the website, "Our sustainable philosophy means the course is maintained without the use of chemicals and water is preserved thanks to a state-of-the art irrigation system."
The resort was made Travel + Leisure's It List 2015: the Best New Hotels on the Planet, and Conde Nast Traveler's 2015 Hot List.
The working organic Belle Mont Farm is also part of Kittian Hill and has its own cottages and boutique  hotel.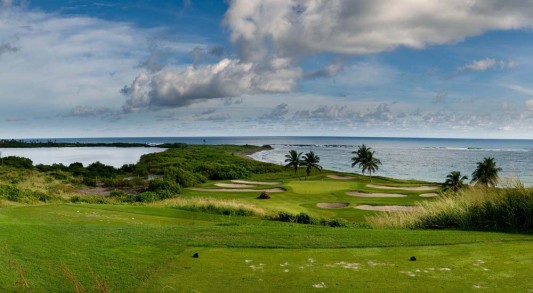 Zahira Coll-Buell, Group Director of Human Resources, sent me the superintendent job posting and a description of the type of person they seek to fill the role.
"Our Golf Course, designed by Ian Woosnam, obtained the GEO certification Legends' award. Which is the highest certification be GEO for a 100% organic and sustainable Golf Course. We are in need of an experienced Golf Course Superintendent. The ideal candidate would have experience in the Caribbean in a luxury Resort. Compensation package is commensurate with experience and competitive. St. Kitts is a beautiful island to live on and Kittitian Hill is an amazing multi-use project encompassing 400 acres, to be completely developed over the next six years."
St. Kitts covers 68 square miles and has a population of approximately 42,000. Nevis is nearly 36 square miles with a population of or approximately 12,000.
According to the Kittitian Hill website, the resort "encompasses 400 acres of organic farmland and tropical forest; it's an edible landscape, planted with organically-grown fruit and vegetables. You'll see 'Pick Me' signs hanging where the ripest fruit is ready to pick and enjoy, as well as indigenous plants that serve as natural habitats for wildlife while reducing the need for irrigation."
Here is more information on the Irie Course from the Kittitian Hill website.
"Irie, which means to be at peace with yourself and where you are – reflects our commitment to harmony and community.
"Every hole of this par 71, 18-hole course features enchanting views across the sea and shades of green that rival those on the slopes of Mt. Liamuiga. The course weaves through tropical farmland and fruit orchards, transforming natural obstacles into challenging opportunities for all skills levels, while remaining true to our vision of sustainability.
"Walking is encouraged, and caddies from the local golf academy will share their tips on the course – including where the ripest, juiciest fruit is ready to pick and eat in the shade of a wild calabash tree."
If you are interested in the position, you can contact Coll-Buell by email, zahira.collbuell@kittitianhill.com, careers@kittitianhill.com or by phone, 869 465.7388 ext. 2330.