Hazeltine National Golf Club, scheduled to host the 2016 Ryder Cup, has closed a number of its greens less than a year after all 18 putting surfaces were renovated.
In an email response to an inquiry from me, Matt Hansen of the public relations firm Beehive, which represents Hazeltine, wrote: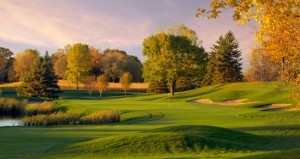 "As you may be aware, the extreme weather this spring and last winter has put an exceptional amount of stress on many of the golf courses in the region, including Hazeltine National. Unfortunately, the recent upgrades to our course came before one of the worst winters and springs in recent memory, followed by extreme heat this summer, especially for growing and maturing a golf course. As a result, the course has implemented limited play to relieve the course of stress and conduct some necessary reseeding. This includes creating a few temporary greens. We are confident our course will exceed our member's expectations once the proper growth and rest is allowed."
The club's website makes no mention of the temporary greens but does tout the recent work.
"The 7,674-yard, Robert Trent Jones-designed golf course underwent its first major update since 1986. Root zones of all the greens were cored out and all putting surfaces were reseeded with creeping bent grass, making them firm and fast for the entire season. The fairways and the first eight feet of the roughs were also regrassed. The result is a fast and firm playing surface on a consistent basis, while making the course more environmentally sustainable by using less water and fewer inputs."
According to the website, the course opened June 7.
Architect Rees Jones consulted on the work and the greens were grassed with Penn A-4.
Edina Country Club, not far from Hazeltine, last year also rebuilt greens along with tees and bunkers and installed a new irrigation system. The work was overseen by the architect team of Tom Lehman and Chris Brands. Edina has not had to close greens this year. Jacklin Seed's T-1 variety was used on the putting surfaces.
Hazeltine, a Robert Trent Jones design located in Chaska, Minn., opened for play in 1962 and has been the venue for a number of amateur and professional major championships. The first came with the U.S. Women's Open in 1966. The tournament returned in 1977. Hazeltine has also hosted the 1970 and 1991 U.S. Open, the PGA Championship in 2002 and 2009, the 1983 U.S. Senior Open, the 2006 U.S. Amateur and the 1994 U.S. Mid-Amateur.
Hazeltine was lambasted by a number of players before, during and after the 1970 U.S. Open.
Dave Hill, who was in second place after the second round, was asked what the course lacked and he famously replied: "Some 80 acres of corn and a few cows."