JCB, one one the largest manufacturers of heavy equipment in the world, has landed an agronomic heavyweight to grow in and maintain it's planned £30 million golf course to be built near the company's headquarters in Rocester, Staffordshire, England, located roughly halfway between Birmingham and Manchester.
 Euan Grant, until taking a position with JC, was the estate manager at the
Trump Turnberry Resort.
He boasts one of the most impressive resumes in golf turf.  Grant came to Turnberry in 2008 and was second in command to George Brown when the site hosted the 2009 Open Championship. Brown retired following the event. Previously, Grant was the head greenkeeper  and grew in
Machrihanish Dunes
in southwest Scotland, the first golf course ever built on a Site of Special Scientific Interest. Before that Grant was head greenkeeper at the Old Course in St. Andrews, Scotland. The 2005 Open Championship was played there while he was in charge. He had been head green keeper at the New Course in St. Andrews before moving over to the Old.
Reportedly, when Grant gave his formal notice at Turnberry he was escorted off the property at the behest of Donald Trump.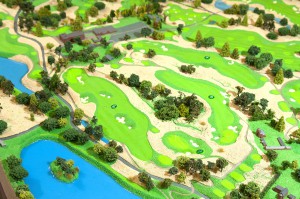 Grant would not comment on his departure from Turnberry.
The good news is that he won't have to be part of Trump's ill-advised reworking of one of the world's most heralded courses.
According to the Birmingham Post newspaper, while the JCB course will be primarily for the use of JCB's 11,000 employees as well as customers, there are other goals in mind including hoping to attract major tour events to the planned 7,150-yard golf course that will be built on 240 acres of countryside to the south of its headquarters.
You can read the entire story by clicking
here.
According to the JCB website, the course is to be completed by 2018. The project has yet to receive planning approval.
"At the heart of this premier golf development is Woodseat Hall, an 18th Century mansion currently in ruins, but which will have a new lease of life under plans to renovate it as the course clubhouse, complete with a new luxury spa, leisure facility and five-star hotel-style accommodation," reads the company web site.
JCB Chief executive Graeme Macdonald said there were also plans to attract major golf tournaments, bringing thousands of people to the region."The golf course will be the biggest marketing tool available to
JCB
in its history, helping grow sales and create jobs. If the course were to host a major tournament, the television coverage would certainly put the JCB brand firmly on the world stage," Macdonald said. "It would also help to raise the profile of Staffordshire and promote the county as a tourist destination to millions of people around the world."JCB has also announced that will invest £150 million to build two factories in Staffordshire.
(Photo by Anthony Pioppi)