An amazing story out of Stanley Golf Course, the municipally-owned facility of New Britain, Conn.
John Bertola of Southington aced the third and 17th holes in the second and final round of the A-flight club ch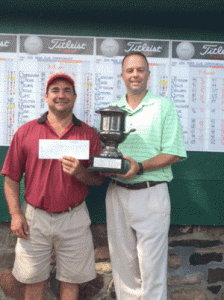 ampionship to earn his first title.
"I knew both were on line but I didn't know they were in the hole," Bertola told write Matt Straub of the Bristol Press. "Not having to putt at the club championship when your hands are shaking is very rewarding."
Bertola admitted the pressure of the event was getting to him from the outset. He missed an 18-inch putt on the first hole.
The second "1" calmed his nerves.
"Going to 18 knowing all you have to do is not faint is nice," he told the Press. "It's hard to play when you have good players chasing you."
Bertola shot 151. Van Phaviseth was second in the A-flight at 157.
You can read the entire story by clicking here.