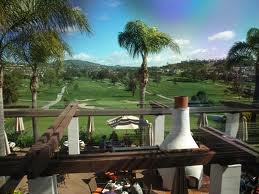 How many second chances can a golf resort get? The sky's the limit at La Costa, the sybaritic retreat that's been soothing the nerves and tightening the tummies of harried celebrities, executives and matrons since 1965.
During the resort's heyday, the likes of Frank Sinatra, Bob Hope and Bing Crosby belonged to the on-site country club. Back in the day, pastel convertibles pulled up to the porte cochere brimming with starlets. And a hired helicopter dropped Easter eggs from the sky for the springtime hunt.
That was long before the goose that laid the golden egg at this 400-acre property 30 miles north of San Diego was sliced and diced by ownership changes and endless facelifts that sought to restore the resort's vigor.
I first visited La Costa in the late 1980s and came away quite impressed. All the ingredients for relaxation at this So Cal decompression chamber were in place: two fine golf courses, a composite of which hosted the PGA Tour's annual Tournament of Champions (and later the Accenture Match Play Championship); superb weather year-round; and a world-class spa with a menu of fitness and diet programs that were way ahead of the feel-good, look-good curve.
Bordered on three sides by haystack-shaped hills studded with terraced homes, La Costa still hangs its terry robe on its North and South courses. The most significant sections of each were designed by Dick Wilson, with later modifications by Joe Lee. There is little to choose between them. Each is a solid, well-conditioned layout with enough water and sand in play to keep the most skillful of players alert.
The North is the slightly longer, more rolling and more open of the two courses. The layout's middle realm nearly departs civilization, playing to sagebrush-covered hills that appear lifted from an early Hollywood Western.
The South Course, a more compact layout, is routed closer to the main resort complex. As on the North, the targets are slick, elevated greens undercut by deep, flashed-face bunkers. These greens are hardly the inviting, featherbedded targets one often sees at resorts. In fact, there's a phalanx of traps staring you in the face on nearly every single approach shot. In the words of a former staff pro, "You must have a good understanding of the sand game to play well at La Costa."
You must also stroke the ball a fair distance if you're to survive holes 15-18 on the South Course. Known as "Golf's Longest Mile," the final four measures slightly more than a statute mile of 1,780 yards from the championship markers. When a breeze sweeps in off the Pacific, located a mere three miles from the resort, they can play to a mile and a half. These are round-crunchers, holes to separate the men from the boys. Even the yardage book isn't very optimistic about a golfer's prospects on them.
At the time of my visit, more encouraging advice was dispensed by the resort's caddies, each of whom reported to work in a white jump suit and logo visor. There were some real characters in the yard–Tank, Animal, Knothead, the Ripper. My bag was assigned to a grinning, mirror-shaded gentleman by the name of James Brown ("Just call me the Great One," he loudly volunteered during first tee introductions). Brown marked my ball with a silver dollar and informed me in a hoarse whisper that "all putts break toward Las Vegas," a reference to the fact that La Costa was conceived by a Las Vegas syndicate of casino kingpins. (Sports Shinko, a Japanese company, purchased the resort for $250 million in 1987, but the property has been horse-traded many times since).
It was at La Costa that I came to the realization that spa treatments are not the sole province of the fairer sex. In fact, the afternoon queue for facials in the men's spa was longer than in the women's area. Facials are given in a darkened, church-quiet room by technicians who huddle over their charges with fine camel-hair brushes and steam cleaners, and who fit a gentleman's hands and feet with mittens and booties filled with vitamin E-based creams while impurities are removed from facial pores.
While the facial was a first, so was the herbal wrap. Propped up in a room brightened by a gas-burning fireplace, I was mummified in Irish linen soaked in a strong brew of Oriental herbs. The therapist then suggested a loofah scrub as the best way to remove the top layer of dead cells from my skin. My body was smeared with a gel, sprinkled with coarse salt and then scrubbed vigorously with a natural sponge. The rinse—I'll be honest, I yowled–was conducted in a needle-nosed Swiss shower regulated from very hot to icy cold. For those seeking the literal pink of health, this treatment is for you.
After my nails were trimmed and buffed, I wandered into the gift shop. If you ever dreamed of wearing rhinestone-studded socks (on or off the course), or of wearing a pony tail for that special evening (the resort's salon specializes in hair extensions), this most Hollywoodish of getaways is the place to let down your hair. Even if it's not your own.
Unfortunately, physical vitality and financial health are worlds apart. While La Costa held its own through the 1990s, KSL Recreation, a private equity firm that invests in leisure properties, purchased the resort in 2001 from Sports Shinko and spent $140 million to coat the peachy-pink exterior walls with ivory stucco, among other improvements. In 2002, the Chopra Center for Well-Being relocated to La Costa. A year later, the resort's refurbished spa, its standout amenity, was quickly acknowledged as one of the nation's best.
In 2007, Whitehall Street, a Goldman Sachs affiliate, bought the resort at the height of the market. Overextended by the ill-timed purchase, Whitehall sold the property to KSL Capital Partners, transferring control to some of the same individuals previously affiliated with the former KSL Recreation firm. The purchase price, never confirmed, was estimated to be $120 million, a very steep discount from its previous value. The property is managed by KSL Resorts, a La Quinta, Calif.-based company that governs six other U.S. resorts, including The Homestead in Virginia.
By way of background, KSL Recreation was a portfolio company of Kohlberg Kravis Roberts, a private equity firm that specialized in leveraged buyouts. KKR made headlines in the 1980s, the "Bonfire of the Vanities" era, with its high-profile takeovers of well-known retail and consumer brands. These included Safeway Stores, the largest food retailer in the world (1986); Duracell, the world's leading manufacturer of alkaline batteries (1988); and its unprecedented $31.4 billion acquisition of RJR Nabisco, a global leader in consumer products (1989). Until 2006, the Nabisco deal was the largest buyout in history.
Can a company with teeth as sharp as KSL's revive La Costa and recapture its glory? The resort is currently in the midst of a $30 million overhaul. This year, the resort's guest rooms and suites will be re-decorated, and "waterfall-adorned" areas will be added for business mixers and weddings. A 2010 "Green Seal" recipient, La Costa will replace 75 acres of golf course turfgrass with native grasses and low-maintenance landscaping. Other course improvements are planned.
I'd go back to La Costa in a flash for a spa treatment—the good-humored staff is second to none. And I'd go back for a whiff of the snap-brim'60s and to see what became of James Brown. But while it gropes for a foothold in the highly competitive hospitality sector, this grand dame from another time will likely languish, Deepak Chopra's ayurvedic treatments and "SynchroDestiny" events notwithstanding.