I was a young teenager when I saw From Russia With Love (1963), the racy 007 spy thriller. (I had read the Ian Fleming novel under my bed sheets by flashlight). The effects were lasting. Who was manlier than Sean Connery as the ultra-suave James Bond, who lovelier in a velvet choker and gauzy gown than Daniela Bianchi, a former Miss Rome? The plot was riveting, a classic in the spy genre, but the backdrops for the action are what stuck in my head. This couldn't be Russia, I thought. No way. Not grim enough. The markets were too colorful and labyrinthine, the architecture and seascapes too exotic.
I later learned many of the movie's scenes were shot in Turkey, in Istanbul, at the Blue Mosque, Grand Bazaar, Bosphorus Bridge, Topkapi Palace, Hagia Sophia and other landmarks. Along with Dr. No, the first 007 flick (shot in Jamaica), I wanted to see the world because of what I saw in the early Bond films. Sadly, I've yet to visit Venice, another location set for From Russia With Love, but I did go to Turkey recently. My advice: skip Florida this winter. If you want to combine excellent golf with the ultimate East-meets-West destination, go to Turkey, specifically Turkey's Mediterranean coast. Colonized by the Greeks, later controlled by the Romans, it is now patronized mainly by sun-starved northern Europeans. Including Russians.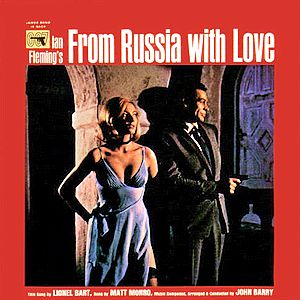 An hour's flight south of Istanbul is the fortified port city of Antalya, an ancient settlement (circa 159 B.C.) with a modern pulse and a population of 1.1 million. The most important remains are the Roman city walls and Hadrian's Gate, built in honor of the emperor's visit in 130 A.D. However, a distinctive fluted minaret of red brick, built by a sultan in the 13th century to pierce the deep blue sky, is Antalya's most distinctive landmark. Open-air restaurants and cafes terraced into a hillside ring the city's lively keyhole harbor. I expected to see large, square-rigged wooden ships cresting the horizon during my walking tour of the city.
Twenty-five miles east of Antalya is Belek, where the Tourism Ministry put its finger on the map in the early 1990's and said, "Here is a place for golf." The choice was inspired. Set back from the shore beneath the Taurus Mountains, which rise to over 10,000 feet and are snow-capped in winter, is rolling, sand-based terrain covered in umbrella pines and eucalyptus trees. The obvious comparisons are to Spain's Costa del Sol and Portugal's Algarve, Turkey's distant cousins in the Mediterranean. Belek lacks their inventory of courses, but the region's classical sites outshine those of any golf destination in Europe.
At present, Belek has more than 10 courses open for play, with several more on the drawing board. The newer clubs are attached to all-inclusive, 4-star resort hotels strung along the beachfront. It is, in every sense, a blossoming destination patronized mainly by the British seeking an alternative to pricier choices in Iberia. With each new course opening, Turkey, with one foot in Europe and the other in Asia, raises its profile as a winter golf destination. It's not quite the Grand Strand of the Med, but it is one of the ancient world's most fascinating precincts.
Modern-day Turks, by the way, eclipse the taciturn stereotypes created for them by Hollywood. Most natives are unfailingly courteous, friendly and welcoming to visitors. While predominantly Muslim, Turkey is a modern secular republic. The nation is exceedingly tolerant of Western lifestyles, especially in regions popular with tourists. As for language, English is the lingua franca in Belek's hotels and clubs.
Here's an overview of the region's courses, from established venues to top newcomers.
Mainstays
Debuted in 1994, Belek's first course was the National Golf Club, a splendid layout by the Irish duo of David Jones and David Feherty. (I would have given anything to be on site when golf's funniest funnyman was there imbuing the course with strategy). A clever blend of British and American features, the gently rolling layout wanders through a forest of eucalyptus and pine, with several natural lakes in play and the distant Taurus Mountains looming to the north. A walker-friendly course, the National calls for well-positioned shots—several of the fairways are rather narrow. It's a subtle, lay-of-the-land design with small greens and enough length from the tips at 6,896 yards to keep better players honest. Host of a PGA European Seniors Tour event in 1996-97, the National is the course that set the standard for the area. The clubhouse, quintessentially British in ambience and with a lovely outdoor patio set above the water-guarded 18th green, is a relaxing place to recount the round. "Woburn with sunshine," I heard a patron remark between sips of shandy, a reference to the famed club in the Surrey heathlands outside London.
The courses that have cropped up since the debut of the National, all within a 20-minute drive of each other, range from very good to excellent. Tat International (Tat means "taste" in Turkish) is a relatively flat 27-hole layout by Englishman Martin Hawtree, a third-generation designer who tweaked his grandfather's design at Royal Birkdale prior to the 2008 Open Championship. Tat is a diverse mix of inland, tree-lined holes as well as links-style holes stretched along the beachfront, with a river in play at roughly half the holes. The club's only failing is its conditioning, which can be iffy, though enhanced competition should bring the course up to form.
The region's sleeper course is Robinson Club Nobilis, which occupies the site of a former Roman settlement. On a relatively flat site, English designer Dave Thomas routed holes through tall umbrella pines near the Acisu River, the landing areas and slick bentgrass greens staked out by rolled-down, grass-faced bunkers. And just in case you neglected to remember where you are, there's a colonnaded clubhouse and a statue of Julius Caesar swinging a club atop a Roman arch to remind you.
The clubhouse and pool at Robinson Club Nobilis
Belek's largest golf facility is Gloria Golf Resort, a 45-hole complex. The resort's Old Course, a three-time European Senior Tour host, was laid out in 1997 by Michel Gayon, a little-known Frenchman who created an impressive, tree-lined venue that appeals to players at all ability levels. The key shot is the tee shot: The layout's seemingly wide, inviting fairways actually call for well-positioned drives to open up a clear shot to the green. Gloria's New Course, stretching to 6,823 yards, is much friendlier off the tee but calls for more exacting approach shots. Its collection of par threes, including an island-style green at the 17th, is very good. The resort also offers Verde, a sporty 3,075-yard nine-holer.
The majordomo at Gloria Golf Resort is Tony Martin, a former European Tour player who has tirelessly promoted Turkey as a first-class destination. "The future of golf tourism to Turkey is looking very positive," he said. "Some compare Turkey with Spain 30 years ago, but you cannot, as we are moving faster here and the quality and service are higher."
His comments are backed up by Andrea Sartori, an executive with KMPG, a Swiss-based international advisory cooperative that will hold its annual Golf Business Forum in Belek in May, 2010. Sartori described Turkey as "a fast emerging destination that has everything going for it—high-quality golf courses, a desirable climate, natural beauty and outstanding value." He noted that the Turkish Golf Federation has ambitious plans to add more than 100 golf courses in the next 10-15 years. "With recent changes to property laws regarding overseas ownership and potential future entry into the European Union, the development prospects for Turkey are excellent," Sartori stated.
The nation's tour operators have noted that the Belek area attracted upwards of 65,000 golfers in 2008, the majority of them hailing from the U.K. But with a huge growth surge underway, hoteliers and golf directors expect visitor numbers to more than double in the years ahead.
The region's most recent developments are the ones that have given Belek enough critical mass to enter the big leagues. The 36-hole Antalya Golf Club, opened in 2002, occupies flatter terrain and has a different look than the region's other courses. With fewer trees and numerous lakes, it could almost pass for a Florida spread. The Sultan, at 7,011 yards, is a pro-style test that calls for big hitting and sound course management to avoid the rock-rimmed ponds and well-placed bunkers. The Pasha, relatively short at 6,268 yards, compensates with small, very undulating greens.
I have a fond memory of the Sultan. I picked up a game with a Scot and two Englishmen one day. No kidding around: A 10 euro Nassau, automatic two-down press, five euros for birdies, greenies and chip-ins. I was partnered with the Scot, a low handicapper who had regaled us all day with his tales. With the match all square at the 18th, a long, double-jointed par four with seemingly more water than grass in play, he broke the deathly silence on the tee in his thick Scottish burr: "Now it's time to see who's got the big hairy coconuts." Turns out he did.
Now to Cornelia Golf Club, a superb 27-hole facility attached to a full-service resort that justifies the long journey to a land that gave Alexander the Great a run for his money. Named for a beloved Roman matron, Cornelia opened its Nick Faldo-designed Tiberius and Sempronia nines in 2006, followed a year later by the Gaius nine. (The nines were named for Cornelia's children). Cornelia was revered in the ancient world for her character. The club already shares her reputation.
Cornelia Golf Club may be Belek's best test
Faldo was a tactical thinker as a player, and it shows in his course designs. On a sandy, pine-clad site with a broad dune ridge running through the center of the property, Faldo created a strategic gem that puts the kibosh on brute force, asking instead for solid, well-planned shots and clever course management. Straightaway holes are in short supply at Cornelia. Par fives are subtly Z-shaped or make a hairpin turn through the woods. Nearly every par four bends left or right, some gently, some sharply. The scenic par threes are mostly on the short side, but the greens are heavily sloped and well defended. Cornelia reinforces Faldo's belief that strategy is an essential, maybe the essential part of the game
Among the more memorable holes is the short par-four seventh on Tiberius, called 'Faldo's Choice.' The safe play is to the higher ground on the left, though big hitters can take dead aim to the right over sandy wastelands and distant treetops to a sprawling green that slopes to three deep bunkers intended to swallow pushed shots. For gamblers, it's an all-or-nothing affair.
Beautifully groomed, its sandy cart paths curbed by sawed-off trees, Cornelia is an eco-sensitive design that shelters hundreds of plant and bird species, notably the hooded owl, symbol of the Belek region. The club is also home to a David Leadbetter Golf Academy.
Top Newcomers
Cornelia has been reprised by several superb courses opened in the past three years that currently define the Turkish golf experience.
Among Belek's finest new venues is Papillon Golf Resort, which unveiled its Colin Montgomerie-designed course in 2008. While more open than Cornelia, the course site, a mixed pine forest interspersed by sandy ridges, is exceptional. At 7,021 yards (par 72), The Montgomerie has plenty of length at sea level, though with 11 lakes and vast waste bunkers lining several fairways, the premium is on strategic play. The resort, which is angling to host a European PGA Tour event, certainly deserves one. In addition to an excellent practice facility, the $100-million resort development has a floodlit, nine-hole short course, a great place for an emergency nine in the cool night air.
Also newly opened is Sueno Golf Club, which debuted its Pines and Dunes courses on the doorstep of a new hotel last year. Designed by Bob Hunt and PGA Design Consulting, a U.K.-based firm, the courses were designed to appeal to ace and duffer alike. At 7,057 yards, the Pines is defended by clusters of umbrella pines and impounded lagoons that indent the fairways. The 6,283-yard, par-69 Dunes Course makes good use of the site's natural sand dunes. While geared to higher-handicappers, the layout's island greens call for accurate approach shots.
Thirty minutes east of Belek is Lykia Links, one of the few links-style designs to be found along the Mediterranean Sea. No umbrella pines here—the nearly treeless course, laid out by Perry Dye and opened in late 2008, is set along the sandy shore a stone's throw from the beach. Four holes—13 through 16—are tunneled through rolling dunes and exposed to the elements, typically a brisk crosswind. Many of the bunkers are an outgrowth of the landscape, though Dye installed deep greenside pots and kettles, too. The rippled fairways rarely produce a flat lie, while the greens, many of them turtle-backed, are best approached with bump-and-run shots. The course is surfaces in seashore paspalum, a newly developed, salt-tolerant turfgrass that perches the ball on its stiff waxy blades. Lykia Links is the course Jason and the Argonauts, who did their questing in Turkey, would have liked the best. Golf World (U.K.) likes it as well, ranking Lykia Links No. 63 on its current list of the "Top 100 European Courses," a notable achievement for a newcomer. (It is one of four Belek-area courses on the roster).
The latest addition to the Belek golf scene is Carya Golf Club, a heathland-style course by Thomson Perrett & Lobb, the design firm founded by Australian great Peter Thomson. Like Cornelia, the expansive site, a mere 200 meters from the beach, is bisected by a sandy ridge and is heavily forested by pine and eucalyptus trees. The golf course was inspired by England's famed Surrey heathland courses on the outskirts of London, including Wentworth, Sunningdale and Walton Heath. To that end, tens of thousands of heather plants were propagated in a greenhouse beside the course and were used to frame the layout, which at full stretch (7,186 yards, par 72) is the nation's longest.
A few helpful hints. With a few exceptions, scorecard measurements are in meters. Add 10% to convert to yards. As the clientele for Turkish golf is mainly British, most players choose to walk, generally with a pull cart (trolley), though power carts (buggies) are available. Belek's golf season is in full swing from October through May, with early spring a particularly beautiful time to visit.
Sidetrips
Belek is a perfect base from which to explore the region's antiquities. The outdoor history lesson available an hour's drive or less from the golf courses is unforgettable.
Originally settled by the Hittites around 1500 B.C., Perge bears all the imprints of a once-prosperous, well-planned Roman city: a large stadium, a handsome theater and extensive baths. A pair of rounded Hellenistic towers marks the entry to the city and its colonnaded main street. The grooves in the paving stones are ruts worn by chariot wheels. St. Paul preached at Perge on his first missionary journey.
The remains of a Roman bath at Perge
Equally impressive is Aspendos, which boasts one of the best-preserved Roman theaters in the ancient world, with seating for 15,000. (The theater is still used for concerts and festivals). Aspendos also has an impressive aqueduct that traverses the valley and once supplied water to the acropolis, another superb example of Roman engineering.
Moving to the east is Side, one of Turkey's best-known classical sites. The lovely seaside town was founded by early Greeks, but its touchstones are Roman. The arch, an enduring symbol of Roman building prowess, is everywhere. A popular resort town, Side's narrow streets are lined with merchants selling handcrafted leather goods and jewelry. There's a large theater built on Hellenistic foundations, beautiful seaside temples dedicated to Apollo and Athena, and a one-of-a-kind archaeological museum contained in a Roman bathhouse.
Cuisine
Turkish cuisine is as varied as its cultural influences. Mezes, or appetizers, are usually served cold. They run the gamut from elaborately stuffed vegetables to imam bayildi–slow-roasted baby eggplant topped with fried onions and tomatoes and seasoned with garlic. Kebabs—marinated cubes of meat, often lamb, grilled with vegetables on a skewer—are excellent. Fresh fish, notably sea bass, is seasoned simply with olive oil and lemon and grilled whole. Save room for dessert. Baklava—a Turkish pastry made with phyllo dough, honey and chopped nuts—is rich and satisfying.
As for beverages, fruit juices and aromatic tea (served in a tulip-shaped glass) are popular. Turkish coffee—dark, strong and a little gritty—is an acquired taste. The local beer is Efes Pilsen, a fine pilsner. Turkey's national drink is raki, which is made from grapes and aniseed and is similar to Greek ouzo. It's usually served as an aperitif. Tiny quantities are recommended.
Info
For more information about Turkey, contact the Turkish Tourist Office: 212-687-2194; www.tourismturkey.org.