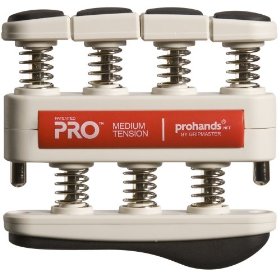 Once I came to the realization that your hands are the direct link between your brain and your game, or least between yourself and the ball, I did what any practical person would do: I bought a pair of rubber dog bones at the local pet store. I squeezed them and squeezed them some more. Then I got a coiled-spring "V" grip exerciser to further strengthen my all-important grip.
What I found over time, however, is that both the rubber dog bones and the "V" grip increased the crude grasping power of a few muscles in my forearm without promoting fine muscle development in my fingers and hands.
And then one day, thanks to a local sales executive based in Pawcatuck, CT, a package from Prohands arrived. Billed as the No. 1 hand exercisers in the world, Prohands, a division of AccuNet, makes a Pro model endorsed by well-known instructor Hank Haney. "Grip strength is essential," Haney says. "It's your primary control over the club face."
Certainly the best grip for golf is both soft and strong. Think of Ernie Els. Soft, flexible hands promote a fluid swing. Picture Geoff Ogilvy. According to the company's literature, the hands are critical to golf excellence because they stabilize the shaft for a smooth, consistent swing. The wrists, meanwhile, multiply the acceleration of the club head towards impact.
I found the contraption to be well-designed and very clever. Imagine a spring-loaded trumpet with four keys (one for each finger) instead of three. The Pro model has a double set of superior steel springs, an ergonomic palm bar and soft santoprene finger pads for added comfort.
Some basic physiology. Each finger of the hand is powered by a completely separate system of muscles and tendons located in the hand, wrist and forearm. Most of the power in the hands is generated by larger muscles in the forearm, while finer movements are controlled by smaller muscles in the hand itself. The wrist is the bridge that stabilizes the interaction between the hand and forearm.
According to Prohands, "The ability to control the golf club starts with the hands. Your hand is really five separate systems that work in seamless unity. The only way to develop superior strength, endurance and coordination in your hands is to challenge and develop each finger individually." This is where my rubber dog bones and "V" grip exerciser fell short.
The full kit—marketed as 'Hank Haney's Essentials Grip Strength DVD & Hand Exerciser' ($27.95 MSRP)—is notable for the amount of information Haney conveys in his presentation. Three main topics are explored:
Distance – Haney explains why a stronger grip is the key to increased club speed and distance. He also teaches the basics of hand positioning and grip pressure for increasing club speed.
Control – Haney demonstrates how to make simple grip adjustments to correct slices and hooks. He also talks about strengthening individual fingers for improved control on tough shots out of sand or thick rough. Feel and touch for putting is also addressed.
Strength – Strong hands, wrists and forearms are crucial for stability and accuracy, Haney says. (Just look at the Tour pros). For the right-handed golfer, Haney explains why strength in the three small fingers of the left hand is critical for power and proper follow-through. Used properly, Prohands can isolate and strengthen the ring-finger and pinky on the left hand.
Prohands is manufactured in three versions: Light Tension (light resistance, 5 lbs. per finger); Medium Tension (average hands, 7 lbs. per finger); and Heavy Tension (strong hands, 9 lbs. per finger).
I received the Medium Tension version. I was cautious at the outset, as the literature recommends, but have begun to increase repetitions in anticipation of a spring outing. In addition to exercising individual fingers, the Thumb Pinch grasp has enabled me to strengthen my left thumb for greater stability.
Heck, I may even take up rock climbing at this point.
Actually, I'll settle for Julius Boros's old adage: "Swing easy, hit hard."
Information:  www.prohands.net.