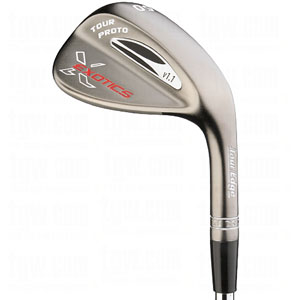 It could be argued that your wedges are the most important clubs in your bag.  Sure, you want to hit fairways with your driver – but if you can wedge shots close and save pars, even wayward drives won't kill you.  And a hot putter is always a great thing to have – but if you're pitching and chipping the ball stone-dead all the time it takes a lot of pressure off your flat stick.  Because of this, I'm fanatic about my wedges.  When I find wedges I like, I will wear out the grooves before I change them.  At least, that used to be the case.  Then I tested the Tour Edge Exotics Proto V1.1.  From the first strike, I knew these were keepers.  Whoa!  Beautiful high launch, very soft feel – and stop-and-drop spin even on off-center hits.  Where had these babies been all my life?
The Tour Edge Exotics Tour Proto V1.1 wedges feature a 303 milled stainless steel face that gives them very soft feel.  The face is just 1.5 mm thick and is backed by a hollow core that's filled with a thermal plastic elastomer gel.  The combination of this thin face and gel give these wedges the best feel and feedback I've ever found in a wedge.  Ever.  And I've hit a lot of wedges.
The club's sole is cambered, too, so it minimizes unwanted turf interaction at the toe and sole.  It cuts through tall grass and sand beautifully.  And its classic look just seems to suit my eye.
On top of all this, the Tour Proto features the new True Temper DG Spinner shaft.  This shaft, which has what I'd characterize as a "reverse bubble" just below the grip where it narrows and then expands, can increase the ball's spin rate by as much as 700 rpm.  This takes a little getting used to – because pitch shots will stop more quickly than you may be accustomed to.  But having the ability to stop shots that precisely is exactly what I want from a wedge.
These wedges come in a variety of lofts from 50 to 62 and are available in both men's and women's models, and for both right- and left-handed players.
Try these wedges and if you're lucky they'll improve your scores as much as they have mine.  Nothing else I've used comes close.