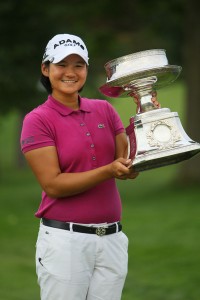 Yani Tseng made it a dozen victories in 2011 with a win in her homeland of Taiwan at a tournament called the Swinging Skirts Invitational. The event was sponsored by a women's and men's amateur golf organization whose players compete in skirts or kilts.
Perfect for the silly season, right? Don't laugh, though. Tseng won over a field that included Suzann Pettersen, Cristie Kerr, Paula Creamer, Na Yeon Choi, Stacy Lewis, Brittany Lincicome, Jiyai Shin, and U.S. Women's Open champion So Yeon Ryu. (The players didn't all wear skirts, by the way.)
That's the most world-wide wins since Annika Sorenstam had 13 in her extraordinary season of 2002. Five of Tseng's wins have come outside the LPGA Tour, but when your main tour only has 23 events, you've got to do some freelancing on the side.
Some thoughts on the LPGA season as 2011 comes to a close.
Year of Yani: Tseng put together a season that was Annika- or Lorena-like. The standard line is that it received little attention, but it's getting a lot of attention for receiving little attention, like a baseball player who is so often referred to as underrated that he isn't underrated anymore. That's inside the golf world—outside the golf world it really didn't register very much.
But the LPGA is a niche within a niche sport, and a smaller niche than it used to be with its reduced, stop-and-start schedule. The only way, short of fashion-model looks, for an LPGA player to get attention in the wide world would be to win the first three majors and go for the Grand Slam, win five or six tournaments in a row, shoot a 58, or play in a men's tournament. Even teeing it up with the men wouldn't have the ground-breaking impact for Tseng of Annika Sorenstam at Colonial in 2003 or the polarizing effect of Michelle Wie in numerous men's events.
Tseng floated the notion in the fall that she would like to play with men golfers "if the opportunity presented itself." The Puerto Rico Open, a secondary PGA Tour event, almost immediately invited her, but she turned it down. Her agent indicated that while she might eventually want to play a men's event, she didn't want to do so right away because it might be "a distraction" at this point in her career.
Tseng clearly doesn't have grandiose ambitions about playing with the men, but said she could use the opportunity to "learn more from male golfers." That's the way Sorenstam used her Colonial experience, which ultimately helped her on the LPGA Tour, especially in major championships, having steeled herself under the pressure of the Colonial spotlight.
Having a woman in a men's field has the danger of devolving into a sideshow, but I'm intrigued from a golf standpoint to see how a top woman player fares on a PGA Tour course. Tseng led the LPGA Tour in driving distance at 269.2. That's long enough to not be overwhelmed by a men's course, even though it would make her the shortest hitter on the PGA Tour (virtually even with Brian Gay, who happens to be a Tour winner).
Tseng's ball-striking is truly impressive. She ranked second in greens in regulation at 74.3 percent, narrowly behind Pettersen (74.5) and 86th in hitting fairways (69.0), very respectable for the distance she hits it. Tseng ranked fifth in putts on greens hit in regulation, probably an indication that she putts well and hits the ball close to the hole.
Something to watch in 2012: Can Tseng win the U.S. Women's Open and complete the career Grand Slam at age 23 in the last year before the LPGA goes to five majors in 2013? (At that point, she will also need to win the Evian Masters to complete the Fab Five, or whatever we're going to call it.) Let's hope she wins the Women's Open sooner rather than later—we don't really want another Kathy Whitworth/Nancy Lopez situation where an all-time great gets shut out at the biggest women's event.
American Drought Continues: With Tseng ascendant, the U.S. still hasn't produced an LPGA Player of the Year since Beth Daniel in 1994. Since then, Sorenstam has claimed that honor eight times, Lorena Ochoa four times, Karrie Webb and Tseng twice each, and Laura Davies once. With Wie looking more like a potentially very good player than a transcendent one, Cristie Kerr just not quite able to reach the highest rung, and Paula Creamer having hit an early plateau, is Lexi Thompson America's best bet? Not for 2012, but to at least be the next Player of the Year to hail from the U.S.
Even more discouraging, U.S. players won a grand total of four of the LPGA's 23 events in 2011—two by Brittany Lincicome, one each by Stacy Lewis (a major—the Kraft Nabisco) and Thompson. Kerr was shut out despite finishing second on the money list and Creamer didn't win, either. On the bright side, there were five Americans in the top nine in earnings (Angela Stanford was another who didn't win a tournament).
Koreans Mark Time:It wasn't a big year for the Koreans, either. They managed only three victories among them, none for erstwhile leader Jiyai Shin. Ryu did capture the U.S. Women's Open and Korea showed impressive depth for a small country. They had 14 players in the top 40 on the money list compared to just 11 for the U.S.
International Scorecard: Tseng's seven victories on their own made Taiwan the winningest country on the LPGA Tour. With the LPGA's limited schedule, that left only 16 for everybody else. The U.S. won four, Korea three, Australia, Norway, and Japan two each, and Germany, Sweden, and the UK one each.
By continent, that's 12 wins for Asia, five for Europe, four for the U.S., and two for the rest of the world (both Australia). Looking at the money list, Asia had the most top-25 players with 10, followed by the U.S. with eight, Europe with six, and the rest of the world (Australia) with one. If there were a Presidents Cup for women, the international team would be strong favorites.
Shrunken Schedule: With the loss of the Springfield event (no replacement sponsor for State Farm could be found) announced last week, it appears that there will be little or no net gains on the schedule next year. There was one bit of good news recently: the RR Donnelly Founders Cup, played strictly for charity in last year's inaugural with no purse for the players, announced there will be a $1.5 million purse next year.
That's good news, because it wasn't fair to the rank-and-file to have a no-purse tournament on a 2011 schedule that included just 13 full-field events. Nearly half of the schedule was outside the country (in 2012 it might be more than half), and most of those international events all have limited fields. It has become very hard for young players to break onto the tour.
Players without the highest priority coming out of Q-School have even fewer chances. With the schedule having built-in breaks, there's no reason for exempt players to skip many tournaments, leaving fewer spots for up-and-comers. Unlike on the PGA Tour, even the best players tee it up in nearly every tournament. The top 10 on the money list played in an average of 21.2 of the 23 tournaments in 2011.
With so few opportunities, it's a challenge to earn enough money to keep your card, not to mention to earn a living. For many, playing the LPGA Tour is just a part-time job, one with limited chance for advancement.