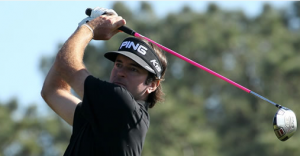 This could be fun. Watching Bubba Watson as he tries to establish himself among golf's elite, that is.
Nobody hits the ball longer (though there are a handful in the same ballpark). Nobody is as creative at working the ball from left-to-right and right-to-left. Combine that with a heart-on-his-sleeve personality, and nobody is more entertaining to watch.
It took Watson four-and-a-half years to claim his first PGA Tour victory, that coming at Hartford last summer. Since then he's finished second at the PGA Championship and now he's won the Farmers Insurance Open at Torrey Pines. Now we'll see if he can keep all that talent harnessed and keep a place near the top of the money list in 2011.
Speaking of fun, could there have been a more entertaining threesome than the grouping of Watson, emerging star Jhonattan Vegas (the rookie from Venezuela who has finished first and T3 the last two weeks), and Anthony Kim? They were in the next-to-last group, with, oh by the way, Phil Mickelson in the final threesome trying to keep the final round from turning into the Bubba and Vegas show.
This was one tournament that didn't need Tiger Woods in contention. Good thing. Woods just didn't have it on the weekend as he slid to a T44 finish, his new swing still a work in progress.
While it could be said that Watson won because of power off the tee (ranked first in driving distance) and precision with the irons (ranked first in greens in regulation), he actually closed out the victory by making key putts on the last two holes. It was an ironic conclusion because he had actually putted pretty poorly for the first 16 holes before making a 9-foot putt for par on the 17th and 12-foot putt for birdie on the 18th to finish with a 67 and one ahead of Mickelson.
Watson is a mediocre putter by Tour standards (ranked 103rd in total putting last year), so it was an encouraging sign that he could make two big putts with the tournament on the line.
But it's off the tee where Bubba is worth the price of admission. He routinely blasts the ball more than 300 yards—then he has an extra gear when he needs it. Here's the distance of his drives on the four par 5s on Sunday: 333, 324, 362 (!), and 334. Strangely, he didn't hit the green with his second shot on any of them, but he did birdie all four. On the 18th, he had only 186 yards for his second shot but pushed a seven-iron into a greenside bunker before escaping nicely from a not-so-good lie and holing the putt.
Still, that massive drive did him some good. Vegas was one shot behind as they played the 18th, and knowing that Watson had a short-iron second shot induced him to go for an eagle. The flag was near the front of the green, so to get it close Vegas needed to flirt with the water in front. His 5-iron from 217 yards from a decent lie in the intermediate cut dived into the hazard, setting up a bogey that dropped him into a tie for third with Dustin Johnson.
The go-for-the-win shot said a lot about Vegas and his attitude. He could have played it safe, hoping for a birdie that would have preserved second place and still given him a chance for a playoff if Watson made a par. Instead, he went for the gusto. He didn't pull it off, but he won a lot of fans.
Vegas continued to earn respect for his game, too. It was quite a weekend for the rookie, first outplaying Woods on Saturday and then shooting a 68 on Sunday to nearly win his second tournament in a row. Vegas hit 15 greens on Sunday (for the week he ranked second in GIR) and made seven birdies, but was done in by a couple of three-putt bogeys. It's enough to make you wonder why he didn't win more than once on the Nationwide Tour last year. He's bound to come down to earth, but he's showing that his upside is very high.
For what it's worth, Mickelson's solo second enabled him to stay in fifth in the world ranking, just ahead of Paul Casey, who won the European Tour's event in Bahrain on Sunday. More importantly, it showed that Lefty is on the way back after a disappointing second half of 2010.
His driving accuracy was pretty awful (ranked T64th for the week), but what else is new? He still managed to tie for second in greens in regulation.
Some were surprised that Mickelson laid up with his second shot on the 18th hole instead of waiting to see if Watson made his birdie putt up ahead on the green to go two ahead. Phil explained that the way his ball was sitting in the rough 226 yards from the green made it highly unlikely that he could carry over the water with his hybrid but that his 3-wood was sure to go over the green. Without a realistic shot at reaching the green, it really didn't matter for his strategy what Watson did. Even if Mickelson needed an eagle (as it turned out he did), his best chance at it was from the fairway, so he made the right move.
Mickelson enhanced the tournament's drama by sending his caddie, Bones Mackay, to tend the flagstick on a 72-yard shot that ended up four feet from the hole. He had a sense of theatrics on the 17th hole, too, when he walked nearly all the way to the green before his 113-yard approach to get a look at the break of the putting surface. He justified the move by hitting his approach to three feet for a birdie.
Torrey Pines proved once again that it is a fine setting for producing excitement, especially on the finishing hole when the tee markers are set to put the green in reach. It wasn't quite the 2008 U.S. Open, but it will probably stand up as one of the best events of 2011.
Woods, incidentally, played the 72nd hole almost exactly the way he did at the 2008 Open—drive in the left fairway bunker, second shot layup to the right rough, full wedge shot to 14 feet. Only this time, he missed the putt. Also, this time it gave him a final-round 75 and a finish 15 strokes behind.
This was at a site where Woods had won the last five times he teed it up, the regular PGA Tour event (then known as the Buick Invitational) in 2005-8 and that memorable U.S. Open, where his birdie tied Rocco Mediate on the 72nd hole and he won an 18-hole playoff. He missed the Torrey Pines event in 2009 and 2010 due to injury and scandal.
Because of that Torrey track record, many thought that this would be where Woods would return to form. But let's not take his poor showing as evidence that he's finished. What it shows is that he still has some work to do getting comfortable with the swing changes he's working on with Sean Foley.
Woods wasn't very accurate off the tee (T50 in hitting fairways), but more concerning were some misses with short irons. After the tournament, Woods said that his game got progressively worse as the tournament went on. The trouble really started on the back nine of the second round when he hit four approach shots into bunkers in a seven-hole stretch starting at the 11th. By finding bunkers with his approaches on the first two holes of the third round, he made it six visits to the sand out of ten holes.
Just before his game got away from him, Woods had appeared to shoot himself into the tournament with four straight birdies on the front nine on Friday. But his 69 on Torrey's South Course in the second round was a bit misleading, as it was built on exceptional putting. Then his 74-75 finish was hurt by substandard putting.
By my method of using the Tour average conversion rate from the distances of each his putts, Woods putted two-and-a-half strokes better than an average putting round on Friday but two strokes worse on both Saturday and Sunday. So, his tee-to-green game should have produced a 71 or 72 on Friday, a 72 on Saturday, and a 73 on Sunday. Not very Tiger-like.
While Woods was plodding his way around the course, Nick Watney was doing just the opposite. As if the tournament needed even more spice, the 2009 winner at Torrey Pines started his round on the 10th tee and cruised around the back nine in an incredible 28 strokes by making eight birdies and a lone par (on the 15th). He started out 11 strokes out of the lead, so he was never in the title hunt. In theory, he had a chance for a 59. Realistically, he was trying to beat a 64, the best score on Torrey South since it was considerably toughened in a 2002 Rees Jones redesign, accomplished by Matt Jones in 2009.
After a par on the first hole (his 10th), Watney promptly missed the next three greens but escaped with just one bogey. An eagle on the par-5 6th followed by three pars gave him a 63 and a move from 56th place to a finish of T6th.
If this is what happens when the best players get together (we barely even mentioned Dustin Johnson's charge to a tie for third), we've got a lot to look forward to in 2011.
Watney's and Watson's rounds are worth a blow-by-blow look from PGA Tour's ShotLink data. (Note: Not all holes were set up to play to the scorecard yardage. Numbers in parentheses represent yardage remaining to the hole).
Nick Watney
No. 10, 405 yards, par 4: 267 yard tee shot to fairway (138), approach to 6 feet, one putt, birdie
No. 11, 221 yards, par 3: tee shot to 2 feet, one putt, birdie
No. 12, 477 yards, par 4: 323 yard tee shot to fairway (160), approach to 17 feet, one putt, birdie
No. 13, 541 yards, par 5: 304 yard tee shot to fairway (219), approach to 50 feet, two putts, birdie
No. 14, 435 yards, par 4: 299 yard tee shot to fairway (145), approach to 3 feet, one putt, birdie
No. 15, 477 yards, par 4: 292 yard tee shot to fairway (179), approach to 26 feet, two putts, par
No. 16, 227 yards, par 3: tee shot to 38 feet, one putt, birdie
No. 17, 442 yards, par 4: 292 yard tee shot to bunker (161), approach to 4 feet, one putt, birdie
No. 18, 572 yards, par 5: 306 yard tee shot to intermediate (216), approach to 29 feet, two putts, birdie
No. 1, 452 yards, par 4: 290 yard tee shot to fairway (162), approach to 44 feet, two putts, par
No. 2, 387 yards, par 4: 296 yard tee shot to bunker (106), approach to bunker (34), blast to 4 feet, one putt, par
No. 3, 198 yards, par 3: tee shot to rough (13), pitch to 18 feet, two putts, bogey
No. 4, 471 yards, par 4: 299 yard tee shot to bunker (178), second shot to fairway (44), wedge to 6 feet, one putt, par
No. 5, 453 yards, par 4: 302 yard tee shot to rough (180), approach to 23 feet, two putts, par
No. 6, 560 yards, par 5: 322 yard tee shot to fairway (244), approach to 22 feet, one putt, eagle
No. 7, 462 yards, par 4: 303 yard tee shot to fairway (160), approach to 19 feet, two putts, par
No. 8, 176 yards, par 3: tee shot to 20 feet, two putts, par
No. 9, 613 yards, par 5: 324 yard tee shot to fairway (254), second shot to rough (61), third shot to greenside rough (6), pitch to 1 foot, one putt, par
Bubba Watson
No. 1, 452 yards, par 4: 317 yard tee shot to intermediate (142), approach to rough (10), pitch to 8 feet, one putt, par
No. 2, 387 yards, par 4: 284 yard tee shot to intermediate (109), approach to 11 feet, two putts, par
No. 3, 198 yards, par 3: tee shot to 3 feet, one putt, birdie
No. 4, 471 yards, par 4: 323 yard tee shot to intermediate (153), approach to 12 feet, two putts, par
No. 5, 453 yards, par 4: 302 yard tee shot to fairway (162), approach to 35 feet, two putts, par
No. 6, 560 yards, par 5: 333 yard tee shot to bunker (246), second shot to fairway (126), approach to 4 feet, one putt, birdie
No. 7, 462 yards, par 4: 278 yard tee shot to bunker (195), approach to 37 feet, three putts (missed second putt from 3 feet), bogey
No. 8, 176 yards, par 3: tee shot to 22 feet, two putts, par
No. 9, 613 yards, par 5: 324 yard tee shot to fairway (253), approach to greenside fringe (8), third shot to 2 feet, one putt, birdie
No. 10, 405 yards, par 4: 283 yard tee shot to intermediate (125), approach to 18 feet, two putts, par
No. 11, 221 yards, par 3: tee shot to 13 feet, one putt, birdie
No. 12, 477 yards, par 4: 298 yard tee shot to fairway (185), approach to 52 feet, two putts, par
No. 13, 541 yards, par 5: 362 yard tee shot to fairway (161), approach to greenside rough (12), pitch to 2 inches, one putt, birdie
No. 14, 435 yards, par 4: 305 yard tee shot to fairway (140), approach to 8 feet, two putts, par
No. 15, 477 yards, par 4: 314 yard tee shot to rough (161), approach to 8 feet, two putts, par
No. 16, 227 yards, par 3: tee shot to 48 feet, two putts, par
No. 17, 442 yards, par 4: 299 yard tee shot to bunker (152), approach to greenside rough (9), pitch to 9 feet, one putt, par
No. 18, 572 yards, par 5: 334 yard tee shot to fairway (186), approach to bunker (15), blast to 12 feet, one putt, birdie