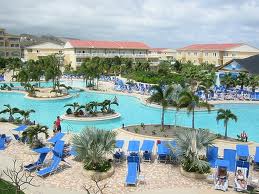 Having returned from St. Kitts and Marco Island in South Florida, I decided to spend a couple of days in Miami and stayed at the world-famous Doral Resort which was recently purchased by Donald Trump. Doral is home to the famous "Blue Monster" where the World Golf Championship is played every March. While I was there, I was taken to a well-known eatery called Red,The Steakhouse in Miami Beach. I was fortunate enough to be escorted by 2 beautiful women, Lisa Schwartz and Yami Alvarado, who work for Diamond PR in Miami who handle the public relations for Red. Established among the city's elite, Red boasts modern noir decor that incorporates the feel and look of South Florida…..what I call a casual elegance.
After we were warmly greeted, we were seated at our booth that looked over most of the restaurant. The first thing I noticed was that next to the bar was a wall that displayed hundreds of bottles of wine, including its own private label. My immediate thought after seeing all of those bottles was, "So much wine, so little time," as I was returning home the next day. After ordering one of their house specialty drinks, a mojito with a splash of pomegranate, I was looking around the whole restaurant and noticed that their space concepts were interesting and versatile including private dining rooms and a penthouse lounge which they use to host gatherings of almost any size.
After finishing off our drinks and some great appetizers it was time to get down to business and look at the menu. Red features certified Angus beef prime on and off the bone. Everything in the restaurant, from the sauces to the garnishes, is prepared from scratch under the watchful eye of Executive Chef/Partner Peter Vauthy. In addition to the amazing assortment of beef options, the menu also features an assortment of veal, lamb, seafood and pork entrees. It was time for us to order. After our server carefully explain some of the amazing specials of the night, two of us decided to order steak & a huge lobster tail and the other entree was for scallops. The chef decided we needed some side dishes to go along with our entrees, so we shared some lobster mac & cheese (amazing), some fresh green beans and garlic mashed potatoes. A great bottle of private label cabernet was sent to the table to enhance an already great meal. After eating everything in sight, an assortment of astonishing deserts made by Chef Vauthy was sent over along with some freshly brewed coffee…all of which was polished off faster then the light of speed. Everything was…shall we say "fantastic!"
The popularity of Red, The Steakhouse is obviously spreading as they have recently opened up a second location in Boca Raton. Their original restaurant in Cleveland called Moxie, The Restaurant is still going strong as well. Should your travels take you to South Florida or the Cleveland area, these places are an absolute must to experience. Creator Brad Friedlander and his partners have bolstered the excuse to go out for diner over and over. Check their website, www.redthesteakhouse.com, for operating days and hours. Oh, yes. One last piece of advice…come hungry!