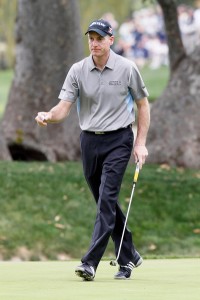 My old friend Teddy Greenstein tweaked me the other day. He did a story on Ian Poulter saying  Tiger Woods won't win this week. He filed the story under this headline: "Poulter says Tiger won't tame Augusta."
Teddy sent an email to alert me of the headline. I didn't have to be reminded of another headline that appeared in 1997. It read: "Why Tiger won't tame Augusta."
It was my first story on the golf beat. I wrote how Woods at 21 wasn't ready to win in his first Masters as a professional. Of course, all he did was shoot 18-under and win by 12 shots. Fourteen years later, people still remind me of my infamous prediction. Thanks, Teddy.
Having said that, I'll try to handicap this year's Masters. I think the tournament is as wide open as it has ever been. The list of this year's who's-he winners shows the balance that exists in golf.
Another no-name could emerge this week, but I doubt it. The course requires too much local knowledge.
Here's my look at the contenders and pretenders.
Jim Furyk. Hate to put my hex on old Jim. I've probably doomed him to a missed cut. He missed the cut last year.
 Furyk, though, is trending up after getting off to a slow start this year. He finished ninth at the Arnold Palmer.
Furyk has placed as high as fourth twice at Augusta. I have a feeling he has one more major left in him. This week? Perhaps.
Phil Mickelson. He's now the obvious choice after his impressive victory last week. A fourth Green Jacket would put him in exclusive company with Nicklaus, Palmer and Woods.
Bubba Watson. Bubba's length always will be a big plus at Augusta. If he can turned the par 5s into birdie holes, he'll be in the hunt. Question is whether his putting will be good enough.
Dustin Johnson. Speaking about length, Johnson has plenty of that to go along with a sound game. After last year's debacle at the PGA Championship, it would be quite a story if he rebounded to win the next major.
Matt Kuchar. Kuchar went seven years without playing in Masters before getting back into the field last year. Now it seems like he pulls a top 10 every week. He has 6 in 8 starts this year. However, there's a big difference between a top 10 and winning. He still needs to figure out how to take it to the next level.
Luke Donald. Our Luke from Northwestern says he has been gearing his game for this year's Masters. If he drives it straight, few can match his short game.
Lee Westwood. Donald's fellow Brit currently holds the distinction of "the best player without a major." He has knocked on the door with top three finishes in four of his last five majors, including a Masters second last year. Hasn't shown much in 2011, but Augusta could get him going.
Tiger Woods. Forget about his recent troubles. Woods hasn't won at Augusta since 2005 and only once since 2002. Given how he's been playing, it seems unlikely that he would break out of it this week. Then again, it is Augusta. And as I learned in 1997, it is dangerous to doubt Woods.