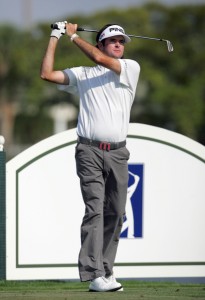 Birdie. Bubba Watson. Watson wins the Zurich Classic to complete the insurance slam. Perhaps he can get State Farm to become the title sponsor of the U.S. Open? It was Watson's second victory of the year. That's good for golf. In the post-Tiger vacuum, Bubba is the kind of player who can get people to stay with the telecasts if he's in contention.
Birdie. Webb Simpson. Deserves to be lauded for calling penalty on himself.
Bogey. Stupid rule. Simpson got burned by one of the worst rules in golf. Simpson did nothing to cause that ball to move on the green. He didn't deserve the penalty. This is a rule that needs to be changed.
Birdie. Lee Westwood. Won for the second straight week. However, this time he beat a better field. Guess there aren't any complaints about him being No. 1 this week.
Bogey. Luke Donald. Finished tied for eighth. Not bad, but he never was in contention.
Birdie/bogey. Alexis Thompson. The 16-year old was tied for the 54-hole lead in the Avnet LPGA Classic. However, she had a mighty fall with a 78 in the final round. That will happen when you're 16. The good news is that she showed her vast potential.
Birdie. Tommy Gainey. Speaking of popular players, Gainey had another solid week, finishing third. It would be great to see him win one.
Birdie. Illinois. Wins the Big Ten title. Congratulations to Mike Small and the Illini.
Bogey. John Smoltz. The future Hall of Famer learned a harsh lesson on just how difficult it is to play golf at the highest level. He shot 84-87 in a Nationwide Tour event in Georgia.