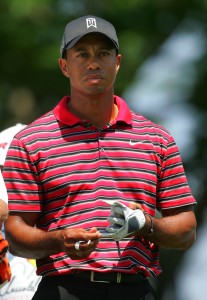 With Tiger Woods returning to action this week at the Players Championship, I had a few thoughts related to him and Seve Ballesteros and Lucas Glover.
Let's start with Seve. He won his 50th European Tour event in the 1995 Spanish Open. At 38, it proved to be his last victory.
I bring it up because golf is a mercurial game. Nobody knows when the good times will end. This isn't to say Woods is done at 35, but as we saw with Seve, nobody is promised a second half of the career. Seve had physical problems. Now, we're seeing Tiger has knee problems and who knows what other ailments? Just sayin'.
Then I thought of Glover. The guy had done nothing since winning the 2009 U.S. Open. Last year, he had only 3 top 10 finishes. In 2011, he came into the Wells Fargo with only 1 top 10. He missed the cut in three previous tournaments.
Then boom, he wins against a strong field. He said he made an adjustment in his set-up, squaring the clubface. Obviously, it worked.
Again, as it relates to Woods, it seems unlikely that he will contend this week. He doesn't play well at the TPC Sawgrass and given his injuries problems, he probably hasn't logged as much practice time as he would like. However, as Glover showed, nobody knows when the magic will strike. Last week, it was Glover's turn. This week, it could be Woods.