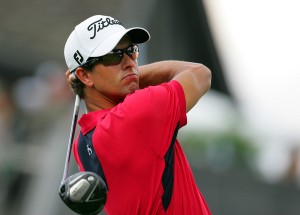 Back after a couple weeks off and ready to roll.
Birdie: Adam Scott. Has there ever been a tournament champion who got overshadowed by his caddie? Scott's victory made Steve Williams the story Sunday at Firestone. However, let's forget the sideshow for a second and concentrate on the fact that Scott finally might be living up to the vast potential predicted for him. The long-putter could be his ticket to greater glory. If he continues to putt like that, he will win a few more tournaments with Stevie.
Birdie/bogey. Steve Williams. Well, that was a nice in-your-face to Tiger Woods. Sure, it had to feel good to win while your old boss was way back in the pack.
However, I think Williams went a bit too far in saying, "I've caddied for 33 years — 145 wins now — and that's the best win I've ever had." Really? Those 13 major victories with Woods paled in comparison to winning for the umpteenth time at Firestone? Where's the gratitude for all the millions you earned with Tiger?
I understand the desire to get some payback, but Williams has to remember he's the caddie, and a caddie is supposed to stay in the background and keep quiet. If he doesn't, Williams could be a distraction to his new man.
Birdie/bogey. Tiger Woods. The good news is that he was able to last four rounds. The bad news is that there was plenty of rust evident in his T-37 showing. The consistency still isn't there.
Birdie: Ricky Fowler. Closed with a 66 to post a runner-up. That first victory should be coming soon.
Birdie: Luke Donald. Another runner-up for the world No. 1 should give him some momentum going into the PGA Championship.
Birdie. Ryo Ishikawa. The 19-year old made a serious run. The young kids are making it fun.
Birdie. PGA Tour. Looks like Rory McIlroy will become a member next year.
Bogey. Phil Mickelson. Talk about lacking consistency. Mickelson goes from second in the British to T-48. That's been the story of his season.
Bogey. Darren Clarke. Opened with a 77 and finished tied for 68th. However, I doubt he felt any pain. The glow from that British Open should last a long time for him, as in forever.
Birdie/bogey. Stuart Appleby. He finished last in the field with scores that included 76 and 78. However, the good news is that it was a no-cut tournament. As a result, Appleby still went home with $36,000.