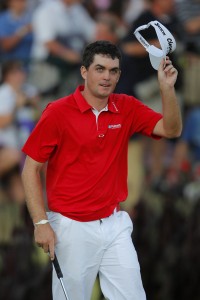 Wrapping up the PGA:
Birdie. Keegan Bradley. Meet the new face of American golf. Mr. Bradley actually saved our face by breaking America's drought in majors.
Mr. Bradley is a charismatic player to watch. He hits it crazy long and is wonderful with the belly putter. Plus, he shows some emotion out there. You've got to admire the way he bounced back from that triple bogey on 15.
Keegan Bradley: Who knew he would be the U.S. version of Rory McIlroy?
Birdie. No-name contenders. Keegan Bradley and Jason Dufner in the playoff? Nobody could have seen that coming. That's one of the beauties of the game. The talent margin is so thin at the top that virtually every player has a chance to win or contend if he can hold it together for four rounds. The unpredictability of golf, especially in a major, adds a compelling element.
Bogey. Big-name disappointments. Yet while praising the no-name aspect, golf desperately needs some big names to establish themselves in the wake of Tiger Woods' demise. There wasn't much star power on the leaderboard Saturday and Sunday.
Stars still drive the TV ratings. Golf doesn't have enough of those right now. Instead, each week, we get a random selection of players who pop up for a tournament and then disappear again.
I know Mr. McIlroy hurt his wrist, but it's disappointing that he has been a non-factor in the last two majors.
Now the spotlight will be on Mr. Bradley during the FedEx Cup playoffs. He could be a big star, but only if he has a second and third act.
Birdie/bogey. Jason Dufner. History won't be as harsh on him for blowing the lead, given the difficulty of the final four holes. However, his name will be mentioned on the list of almost-major winners.
Still, it was fun to watch Mr. Dufner. I'm sure thousands of players will be mimicking his wild waggle routine. Hopefully, we'll see him contend again.
Bogey. Tiger Woods. When will we see Mr. Woods contend again? Talk about a complete disaster. The guy hit into 22 bunkers during the first two rounds. This is the same player who never touched sand in four rounds while winning the 2000 British Open at St. Andrews.
That now seems like another lifetime for Mr. Woods. Out of the FedEx Cup playoffs, Mr. Woods says he won't play another tournament until November in Australia. That's a mistake. He needs to be playing. There's always the European Tour and the PGA Tour's Fall Series. Heck, at this point, he could benefit from playing on the Nationwide Tour. On second thought, he might not want to embarrass himself by not making the cut.
Bogey. Luke Donald and Lee Westwood. The world No. 1 and 2 tried to make a run but made too many mistakes. They wound up in a tie for eighth as they watched another first-time major winner win the title. Now both players will have the long wait until 2012 to try to claim their big prize.
Bogey. Steve Stricker. This one has to hurt. After opening with a 7-under 63, all Mr. Stricker had to do was play the final 54 holes in 2-under to win. Mr. Stricker couldn't deliver. He still had a good opportunity on Sunday, but wasted it with a 73. He wound up in a tie for 12th.
Birdie. Scott Verplank. It was great to see Mr. Verplank, 47, make a surprising run. However, he just didn't have a final kick, finishing in tie for fourth.
Bogey. Phil Mickelson. Lots of birdies and lots of bogeys for inconsistent Phil produced a tie for 19th finish.
Birdie. University of Illinois golfers. Former Illini player D. A. Points posted his first top 10 in a major with a tie for 10th finish. Meanwhile, Illinois coach Mike Small took honors as the low PGA professional in the field, finishing in a tie for 69th.