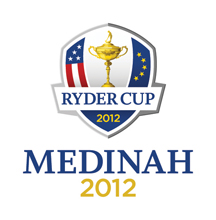 Countdown to the first match: 250 days.
The European team, which already has plenty of firepower, might be getting one more weapon. Robert Rock's hair.
The Englishman has a set of locks that makes Jimmy Johnson's hair look like a bunch of split ends. Speaking as someone who is severely hair challenged, I'm definitely envious.
Rock also has some game too, as evidenced by his victory in the Abu Dhabi Championship Sunday. He did it by beating a couple of guys named Tiger Woods and Rory McIlroy, among others. Impressive.
Now Rock and his hair are suddenly in the Ryder Cup mix. He's currently 10th on the European list.
If he makes it to Medinah, his hair certainly would add luster to the European team. Sorry, couldn't resist.
One more day: European captain Jose Maria Olazabal says he will announce his wildcard picks on Monday after the Johnnie Walker, and not immediately following the tournament as Colin Montgomerie did in 2010. That resulted in problems with Euro candidates on the course in the U.S. at the Barclays.
"I think the scenario last time was a delicate one, especially for the captain, and the players playing in the States," Olazabal said. "We've made a decision regarding that: it's going to be the Monday following Gleneagles. We are going to wait until whatever happens in the States before we make the decision."
Wanted: Hey, looking to be part of the Ryder Cup. Here's your chance. The event is looking for operations assistants to work from June through October. The link with more info.