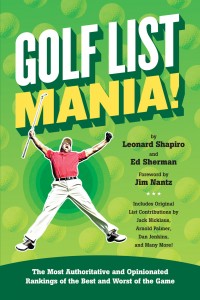 Congratulations to Harrison Frazar. Great to see him finally win a tournament. Shows the beauty of the game. At any given moment, somebody can step out of the shadows and have the week of a lifetime.
However, we're going to dispense with the Monday Birdies and Bogeys this week. The U.S. Open finally is upon us. To get everyone in the mood, I'm going to run a list of the best U.S. Opens of all time from my new book, "Golf List Mania." Co-written with my buddy and former Washington Post golf writer Len Shapiro, we compiled more than 120 lists covering everything in golf. We also have guest lists from Arnold Palmer, Jack Nicklaus and Gary Player, among others. CBS' Jim Nantz did the foreword.
The book is available on Amazon, Border's, Barnes & Noble and at your local bookstore.
Best U.S. Opens
The U.S. Open always is the toughest tournament in golf, and many times, the most maddening. The diabolic set-ups make the pros look like 15-handicappers. Watching the best in the world struggle is compelling theater and often produces some of the game's biggest moments. Here are the best U.S. Opens.
11. 1974: Massacre. Coming off Johnny Miller shooting a 63 the year before at Oakmont, the USGA was determined that a repeat wouldn't occur at Winged Foot. Talk about going to the other extreme. The course was virtually unplayable. Hale Irwin won, but the most memorable part was his winning score: 7-over. This Open would be forever known as "The Massacre at Winged Foot."
10. 1922: Era begins. The start of an epic era for golf took place at Skokie Country Club. A young Bobby Jones came in as the favorite to win his first U.S. Open. Instead, he met his match in Gene Sarazan, a relatively unknown 22-year old assistant pro. Jones played exceptional golf, but Sarazan was one stroke better. It would be the first of many memorable showdowns between Jones and Sarazan.
9. 1964: Heated. Like Ben Hogan in 1950, this tournament is best remembered for perseverance. Playing in searing heat at Congressional Country Club outside of D.C., a sweat-soaked Venturi wobbled down the fairways, looking as if he should be immediately hooked to an IV. Venturi, though, trudged on and somehow found the strength to post a four-shot victory over Tommy Jacobs.
8. 1999. Payne's Day. For pure emotion and drama, it is hard to beat the 1999 Open at Pinehurst. After Tiger Woods faded, it came down to Payne Stewart and Phil Mickelson down the stretch. Mickelson, going for his first major, carried a beeper with him because his wife, Amy, was due to have the couple's first child at any moment. But it was Stewart who stole the show. Needing a 15-footer to save par on the final hole and win outright, he promptly sank the putt for his second U.S. Open title. In a memorable shot, he grabbed Mickelson and said, "You're going to be a father." Indeed, Phil and Amy welcomed a daughter the next day.
The tournament then took on added significance when Stewart died in a plane crash that fall. A statue of Stewart's leg-in-the-air pose following the winning putt now sits in front of Pinehurst's clubhouse, a permanent memory to what happened on that day.
7. 1962: Spoiler. The first of many epic battles between Arnold Palmer and Jack Nicklaus. Oakmont was a home-game for Palmer, a Pittsburgh area native. But the 22-year old Nicklaus, playing in his first year as a pro, was up to the challenge. With the crowd against him, he stared down Palmer in an 18-hole playoff, beating him by three shots.
6. 1930: Third leg. The golf world was focused on Interlachen Country Club as Jones went for the third leg of his Grand Slam bid. A third-round 68 gave him a five-stroke lead. Jones faltered a bit down the stretch, but he still had enough for a two-shot victory over Macdonald Smith. It was three down and one to go for Jones.
5. 2008. Wounded Knee. Tiger Woods did his version of Ben Hogan at Merion at Torrey Pines. Hobbled by a bad knee that eventually required major reconstructive surgery, you almost could feel his pain as Woods limped off the tee. Doctors even told him not to play, but there was no way he was going to miss an Open at Torrey Pines. Rocco Mediate proved to be an unlikely foe, pushing Woods to the limit. But Woods matched him, sinking a dramatic birdie putt on 18 to force a playoff. Then he eventually won on the 19th hole the next day. Considering what he overcame, Woods called it his greatest victory.
4. 1913: Stunning upset. This is the legendary tournament in which Francis Ouimet, a former caddie and unsung amateur, outdueled Harry Vardon to win at Brookline Country Club. Ouimet's unlikely victory thrilled Americans, making him the game's first national hero. Nothing beats this Open for historical impact. The country's love affair with golf began here.
3. 1982. The Chip. The tournament had everything: The aura of Pebble Beach, an epic battle between Tom Watson and Jack Nicklaus, and a shot for the ages. Tied for the final-round lead on the par 3 17th, Watson was in trouble with his ball embedded in the deep rough. Surely, Watson was looking at a bogey, putting Nicklaus in charge. Instead, Watson canned a miracle chip for birdie. He danced around the green en route to his only U.S. Open title.
2. 1950: Comeback. Merion was the site of Ben Hogan's crowning moment. A year earlier, he almost died in a car accident. Still recovering from terrible injuries, Hogan practically willed himself to victory. To make the test even more demanding, he had to endure an 18-hole playoff on his battered leg. Hogan survived, beating George Fazio and Lloyd Mangrum. His triumph truly was inspiring and always stood as a symbol of Hogan's greatness.
1. 1960: Past, present, future. Never in the history of golf did the generations collide as they did at Cherry Hills. The contenders included Arnold Palmer, the game's brash young star; an aging Ben Hogan trying to grab one last moment of glory; and a 20-year old amateur in Jack Nicklaus. Ultimately, it was Palmer who stepped up to produce the defining moment of his career. Trailing by seven shots going into the final round, he boldly predicted a 65 would win the tournament. Then Palmer drove the first green, a 346-yard par 4, shot a 65 and claimed a two-shot victory over Nicklaus.