When insiders refer to The Big 3 now days, it's not Palmer, Player and Nicklaus but Acushnet, Callaway and TaylorMade.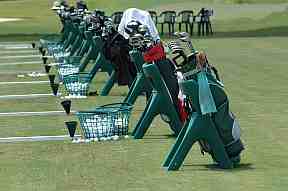 As we have written about previously the equipment part of the golf industry is consolidating and undergoing lots of turmoil.
Smaller manufacturers disappear or are absorbed by larger companies and bigger players fight for market share in the face of stagnant demand.
Here are a few pertinent points to provide a sense of the scope of what is going on:
July 2011
Acushnet Company, makers of the dominant selling golf balls, is sold by its parent Fortune Brands to investors FILA Korea and Mirae Asset Private Equity for an undisclosed amount.
January 2012
Adams says it will "examine strategic alternatives," corporate-speak for looking to find new money or a buyer.
February
TMaG metalwoods had a record 52% of the market and are first in irons sales for the 15th month in a row.
Chip Brewer is hired away from Adams Golf to be CEO of Callaway Golf and Perry Ellis purchases the Ben Hogan brand from Callaway.
March
The adidas Group, TaylorMade's parent, says it will purchase Adams Golf for $70 million, an astounding 71% premium to the current price of Adams stock.
April
Callaway sells the Top-Flite brand to Dick's Sporting Goods and most significantly reported slightly lower first quarter sales of $285.1 million but profits up substantially. However the company lowered expectations for the first half of the year.
May
Taylormade-adidas Golf's first quarter 2012 sales are up 32% to $508 million. The increase breaks down to metalwoods (R11S and RocketBallz) up 28%, irons up 63%, putters 17%, balls 21%, footwear 32%, apparel 10% and bags 116%. TMaG having been number one in metalwoods for several yeas shows no sign or relinquishing there first place.
There are lots of other indicators – bankrupt Yes Putter bought by Adams or Innovex Golf's purchase of Rife Putter or Acushnet's sale of Cobra Golf to Puma – you get the idea.
It's safe to say the golf equipment business has changed and is changing, changing rapidly and the big most likely will get bigger and the rest will have to work hard just to stay afloat.