Each year at the PGA Merchandise Show with its 1,000 exhibitors and thousands of products we look for a few items to highlight for our readers. Here are a few that grabbed our attention as we walked the 10 miles of aisles in Orlando's Orange County Convention Center. There are no clubs or balls in this listing…that will come later as we complete our testing and reviews.
Bermuda San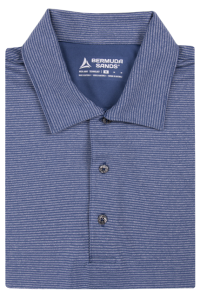 ds—Finding good looking, reasonably priced golf shirts is sometimes difficult so take a look at Bermuda Sands, it's a great brand to consider. For example there's the Elite polo for $60 with a sophisticated subtle stripe, self-collar and three button placket. This one looks equally at home on or off the course.
Golf Pride–M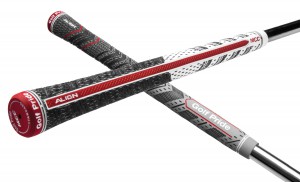 CC ALIGN grip ($10.99) is best reminder grip we have seen. It has a raised ridge with a firmer feel flanked by channels down the back of this cord/rubber all-weather model. Though grips to facilitate proper hand position have been around for a long time the combination of the already popular MCC hybrid grip and alignment aid is a real winner.
Zero Friction—The DistancePro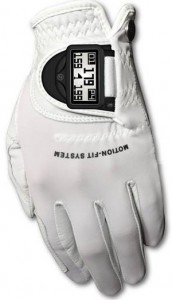 GPS Glove is the convenient combination of a glove which, we wear anyway, and a distance measuring device. We like the lightweight and 400 hours battery life of the GPS plus the fact the glove is one-size-fits-all. Two gloves and the DistancePro GPS unit which is switchable between the two list for $129.95.
New Balance—The NBG2004 is an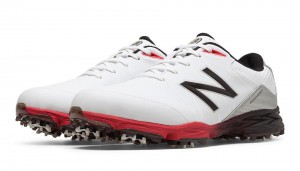 athletic-style cleated golf shoe with a great look and lots of features such as two year guaranteed waterproof upper, New Balance's proven comfortable REVLite midsole and a wider area for your toes to help with balance while swinging. Three color combinations of white/red, black/green and grey/blue available at $99.95.
SkyCaddie—At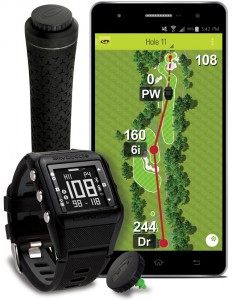 last someone has put a GPS rangefinder and shot tracking watch together with a mobile app for Bluetooth connection to your smartphone. For $349.95 the SkyCaddie LINX GT has those features plus comes preloaded with thousands of courses and, if you choose, it can use data from smart tags, one of which comes in the package.
Under Armour Sunglasses—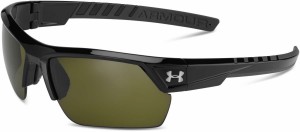 There are hundreds of sunglasses on the market but we were drawn to the UA Igniter 2.0 which happens to have a very nice feature not found on competing brands…an adjustable nose pad. It doesn't maybe sound like much but just a seemly small touch like that can make all the difference in fit, comfort and wearablity. Polarized, super light titanium self-adjusting frames for $144.99.
S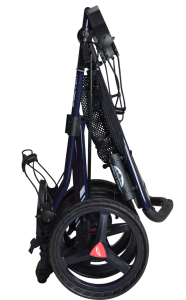 un Mountain—Known for their high quality, functional outerwear, golf and travel bags and push carts new for 2017 is the Speed Cart GT which folds down to only 37" x 16" x 13" at weight just over 17 pounds. The bag bracket is a new design to better hold golf stand bags plus there's a new mobile phone slot and it comes with umbrella holder, scorecard holder and padded storage tray for $209.99.
P2 Putter G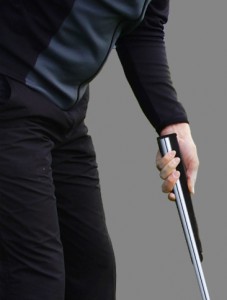 rips–Golfers talk a lot about putter grips, mostly about size or sometimes about feel, but perhaps most important is really the position of the hands in relation to the shaft. P2, based in Ireland, did lots of testing to come up with a design that forces the hands and wrists upward slightly, i.e. more arched, by positioning the shaft towards the bottom of the grip. The new Tour model ($35) is 50% lighter and the tacky feel is excellent.
ECCO-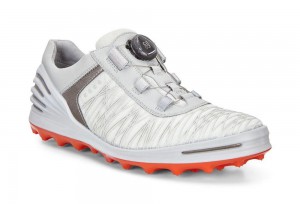 The new CAGE PRO model's outsole doesn't use cleats but does use their SPYDR-GRIP that takes advantage of pivot point for gripping. The BOA closure is both comfortable and helps to make for a perfect fit that helps performance. Waterproof with the textile upper bonded with a custom polyurethane. A choice of either black or white for $230.
Images courtesy of the manufacturers