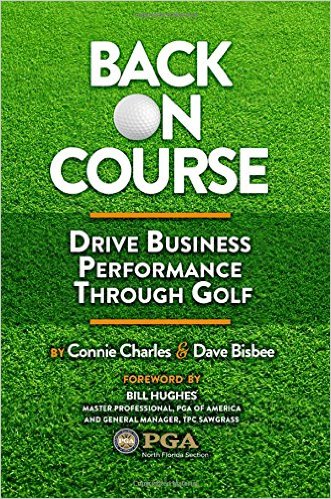 The new book "Back On Course" has the subtitle "Drive Business Performance Through Golf" and it discusses some interesting points beginning with the natural matchup between the social and competitive aspects of golf and business.
Authors Connie Charles and Dave Bisbee do a masterful job of explaining the why and how any business can achieve a positive return on investment by using golf the game and golf the experience to further relationships with customers, vendors and employees.
Formerly golf was recognized as a tool for business. It was played by top and would-be top executives and viewed as an integral part of business relationship building. However, times change. Activist investor scrutiny of corporations followed by the economic downturn of the past ten years gave business golf a negative connotation. "Elitist" being one of the common descriptions and corporate leaders came to no longer look at the game as an opportunity for advancing the interests of their companies.
It was something that could be ditched to offset increasing expenses and as a sop to those characterizing golf as something only rich white-guys did.
The concept of return on investment seemingly took a back seat to being politically correct or at least seeming to be sensitive to public opinion as represented by commentators and corporate critics.
Charles and Bisbee recognized the decline of golf as a tool in the corporate arena often makes relationship building more difficult and puts up barriers to communication between companies, their customers and prospects. In addition, today golf can certainly use increased corporate participation at several levels including charitable giving and additional revenue for golf courses.
Having known Bisbee and Charles for a number of years, it is evident they are serious business people, knowledgeable in what it takes to advance a company's interests and receive a commensurate return on invest.
"Back On Course" stresses return on investment for both corporations and individuals.
Charles is CEO of Strategic Solutions International in Newark, Del. and an expert in corporate team building. Bisbee is the general manager and director of golf at Seven Canyons Golf Club in Sedona, Ariz. and a well-respected instructor. They have an online portal, imapGolf.co, for individuals to improve their performance on and off the course using the same tools Charles has on her corporate site imapMyTeam.
One of the most intriguing ideas in "Back On Course" is that of the five hour meeting or interview, i.e., taking a prospective customer or employee to play golf which with a bit of the 19th hole neatly takes up half a day. From personal experience I know of no way to learn about the true character of someone more quickly than playing a round of golf. Insights into personality, character and attitude are evident and easily observable. They also get to know you, the basis of building a mutually beneficial relationship.
If you are in a corporate decision-making position or simply want to improve your interpersonal skills to further your career using golf, buy this book. In fact, you'll probably buy copies for colleagues.
"Back On Course—Drive Business Performance Through Golf" by Connie Charles and Dave Bisbee is available on Amazon for $24.99.