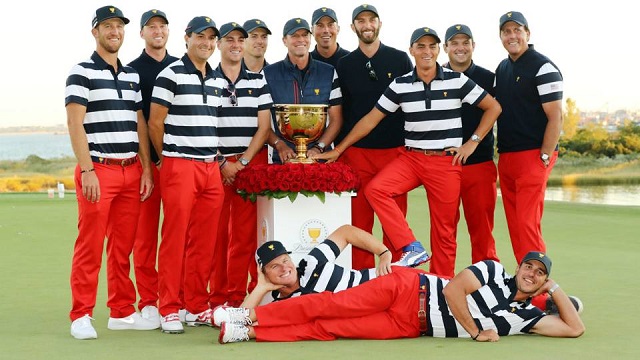 It was fun. Fans saw a lot of quality shots hit by a couple dozen of really good golfers…some even deserving the often loosely applied label of world-class. Even the weather cooperated the final day of the Presidents Cup, an exhibition masquerading as intense competition.
It was clear even before the teams were named this was going to be a rout. The International squad just didn't have the horsepower of Team USA. But of course, they haven't had it for any of the twelve Presidents Cups with the exception of 1998 when a Peter Thompson led squad beat up on Jack Nicklaus' twelve and oh yes, I almost forget, there was a tie in 2003
The U.S "dream Team" so dominated this year it was just one-half point short of clinching the trophy at the close of play on Saturday. Had that happened, Nick Price's Internationals would have been even more embarrassed but it also would have put the PGA Tour in an uncomfortable position with sponsors and fans.
As it was the twelve Sunday matches were almost pointless, a mere half point from being totally pointless and analyzing the Presidents Cup over its entire 23 year run leads to an inescapable conclusion.
It is just an exhibition. It is not a true competition with the gut wrenching drama of the Ryder Cup, though of course the PGA Tour would like it to be.
Things have been modified over the years starting with going from three to four days in 2000 but the basic format has been fourball and foursomes play capped the last day mano a mano single matches, just like the Ryder Cup.
Potentially thrilling except it isn't when, as happened this year, a team's only hope to salvage some semblance of pride is to win the majority of the last day singles matches. The International Team did but it's hard to believe the U.S. players were really fired up with such an immense lead after day three.
So what's the remedy or do we relegate the Presidents Cup exhibition to silly season status? There aren't any options for improvement by expanding the inventory of eligible players as was done in the Ryder Cup when Europe was added to the team composed of Great Britain and Ireland. Frankly there aren't many golfers outside the U.S. and Europe who are ready for prime time so creating an All-South America Team or All Africa Team and even an All Western Pacific Rim Team would seem to be futile. Additionally any plan impinging on perceived Ryder Cup prerogatives would be impossible to implement, after it is the Holy Grail of international team competition.
My proposal some will call ridiculous or even ludicrous but change is needed to give the Presidents Cup relevance, to make it a true competitive tussle and save it from the oblivion of just another golf exhibition. Desperate times call for desperate measures.
The idea would be to expand both teams by adding female professionals from the United States and around the world, including obviously Japan and Asia to both squads. How many? I don't know, but the inherent attractiveness of male/female mixed pairings would be unique if not downright compelling for advertisers and fans.
Spice things up by awarding points (definitely not dollars) to participants, i.e., Race to the CME Globe for LPGA players on both teams, FedExCup points for PGA Tour members and even Race To Dubai points if an international is on the European Tour. Points could be allotted just for getting picked with more for each match won and more for winning the Cup.
Players couldn't help but be enthusiastic plus and a couple of badly needed things would be accomplished. First the Presidents Cup would be rescued by giving fans something exciting and different to watch but more significantly female professionals would be showcased holding their own playing with and against the men.
The time is now for stirring the pot to fix the Presidents Cup…anybody have email addresses for Jay Monahan and Michael Whan?
Finally, I want to take a swipe at all the critics, naysayers and so-called experts who criticized Steve Stricker for selecting Phil Mickelson as a captain's pick. The eminent philosopher and mangler of the English language Yogi Berra put it well, "It's deja vu all over again."
Two years ago when Captain Jay Haas tapped Lefty it was the same discordant chorus but at the age of 45 he accounted for 3 ½ points tieing for the most on the team. Mickelson this year played four matches and finished with 3 ½ points only one point behind point leader Dustin Johnson.
At an age when most players, if they even still have their Tour card, are cruising to the magic five-oh and the PGA Tour Champions, Mickelson stepped up and again silenced the know-it-alls who criticized his inclusion on the team. He was ranked fifteenth in FedExCup points with the top ten being automatically getting a spot. By comparison the other captain's pick eleventh ranked Charley Hoffman had a record of 1-2-0…not exactly stellar.
As a friend of mine said referring to Lefty's invigorated play the last month of the regular season and his record in the Presidents Cup, "There's a reason he's in the Hall of Fame."