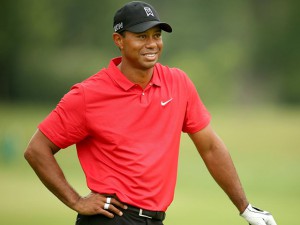 Having a few days pass since Tiger Woods' competitive comeback at the Hero World Challenge, a few comments seem appropriate.
First a little critique of the telecast. Those looking to break into broadcasting should listen to the gushing commentary by some of the Golf Channel and NBC personalities as an object lesson of what not to do. At time it sounded as if the Hero was a major championship rather than a silly season affair with marginally more significance than your Saturday morning four ball.
Just because Woods is playing again doesn't mean he is going to contend much less win, but a good deal of the on-air commentary would have you believe that was the case.
Most of the story for the event was about Woods, his return and the state of his game. Understandable of course but it meant there was scant airtime for others in a field that included not only world number one Dustin Johnson, 8 of the top 10 and 16 of the top 30 in the world rankings. Too bad for winner Rickie Fowler's fans but the TV camera has always had a "Tiger bias" even when he was out of contention, which wasn't often.
And speaking of the Official World Golf Rankings; that an 18-man exhibition warrants the awarding of ranking points doesn't make sense and by doing so exposes a systemic weakness. Woods, who started the week at number 1,199, finished in tie for ninth place which earned enough points to move him into a tie for 668 with Mackenzie Tour player Rico Hoey.
Now with that out of the way, what did we see and what can we reasonably surmise from the 72 holes in the Bahamas?
Woods looked healthy, fit and in interviews seemed to have a good attitude about his game saying the majors are his focus. There's no doubt he wants to pass Jack Nicklaus' total of 18, but he needs five more majors to do that…the same number as career-long rival Phil Mickelson and that's a Hall of Fame career all by itself.
Next season, as a 42-year-old with a history of multiple injuries and surgeries, we will be waiting to see if his body holds up. His schedule must be a balance of building up to the four major championships and the "reps" necessary to hone his mental skills after such a long layoff.
His full swing looks good enough to win on Tour but of course majors are another thing altogether. Bobby Jones said it best, "There's golf and then there is tournament golf." That can be extended to the majors being at an entire other level of intensity than week-to-week tournament play.
Even detractors and skeptics of Woods must concede this first outing was positive showing at times flashes of the winning form we have seen for 20 years. Woods short game had its moments of adequacy but is not yet at the level he needs to win and specially to win majors against high quality dedicated, skilled competitors on courses so difficult the average scratch amateur wouldn't shoot within 15 shots of par.
Putting this in perspective, it is good he is back. The game needs him if for no other reason to test the mettle of D.J., Jordan, Justin, Rickie and Rory. Let's not get carried away but let's hope he can do it, which leaves the most relevant but unanswered question.
Will he be the Tiger Woods of old or just an old Tiger Woods?