One of the best ways to hit better shots is to play with clubs that help to correct those individual swing idiosyncrasies we all have. The process for finding the proper sticks is called club fitting and in spite of what you may have heard, to a certain degree it is true, you can buy a game.
Let's say you are trying to get rid of a slice-producing over the top move that sometimes abruptly morphs into a hard pull to the left. If your clubs could compensate even a little so the ball more often went where you wanted, this maddening game would be a lot more fun.
Some may have doubts about club fitting and question if it is worth the money. Others are hesitant with the excuse they aren't good enough which may be another way of saying they are unsure of exactly happens during a fitting and perhaps even have a fear of being embarrassed.
As age has imposed itself on my swing, club fittings every couple of years have proven their value if for no other reason than "good shots" become easier. The "I'm not good enough" argument therefore puts the cart before the horse because players at every level of skill beyond rank beginner can be helped with a fitting.
To allay any hesitation from not knowing what to expect we thought it would be worthwhile to follow a typical weekend warrior through a driver fitting and keep a diary of the experience for our readers.
Picking a friend named Scott as guinea pig…oops sorry, the guy to be fitted, an appointment was made at our local PGA TOUR Superstore with fitter Sam O'Donnell. The price for a driver fitting is $100 and O'Donnell pointed out the procedure is the same as what the pros on Tour go through whether only a driver or the whole bag, in fact his area of the PGATSS facility has a big sign, "Fitting Van Experience."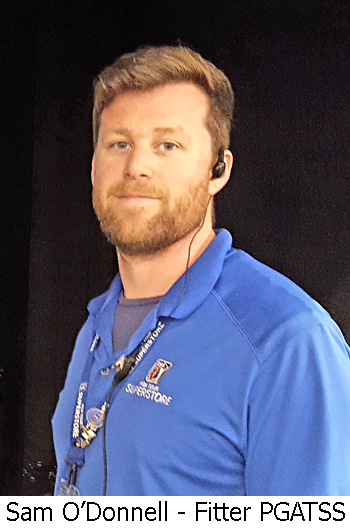 O'Donnell first asked Scott about his game: how often he played (3-4 times per month), how he scored (mid 90s), his most frequent miss (slice) and what Scott was looking for out of the fitting (straighten the slice). He then measured the length (45.5 inches), loft (9.5 degrees) and grip size (standard) of Scott's current driver, a 2014 model TaylorMade JetSpeed with a stiff flex Aldila shaft.
After Scott had stretched a bit and drove a few to warm up O'Donnell asked him to hit six drives using his JetSpeed and a TaylorMade TP5, the ball which Scott most often plays. Data on each drive was measured by a ForeSight Quad launch monitor for a baseline O'Donnell could use to judge differences as shafts and heads were changed.
Scott at 6-foot 1-inch generates lot of clubhead speed consistently registering in the 105 to 110 mph range but unfortunately the ball usually started left of the target and then took a tremendous turn to the right. If we had been on the course every one of his drives would most likely have missed the fairway and the straight-line distance from the tee was seldom over 220-yards. Plus, as do most golfers who slice, Scott made impact low on the face and towards the heel which all by itself robs him of yardage.
As was said of the late President Ford, Scott sometimes must wait until his first tee shot lands to see which course he would be playing that day. Though that sounds exaggerated (and it is of course) you can't mistake Scott's deep desire to play better…if for no other reason than to beat me.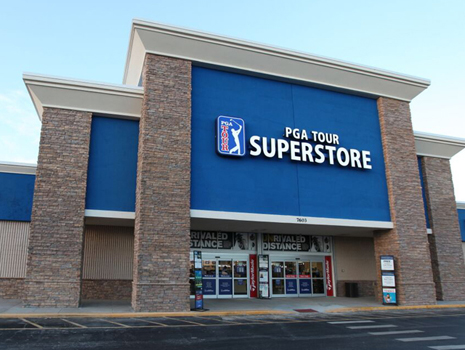 O'Donnell now took a similar TaylorMade clubhead from his stock of several dozen made by a variety of manufacturers all with quick-connect hosels and had Scott hit more drives using a different shaft than the one in his JetSpeed. In addition to the ball's path, measurements shown on the launch monitor included clubhead and ball speed, back and side spin and smash factor—the ratio of ball speed to clubhead speed. After a few drives with the first shaft a second was tried with the same head, then a third and a fourth and then back to the second and third again. Finally, the second, a stiff flex Fujikura Pro Green 62 weighing 66-grams and 45-inches in length, was selected since it consistently produced the best combination of distance, trajectory and dispersion.
O'Donnell pointed out in most driver fittings he evaluates at least four shafts and often more.
Now that the proper shaft had been identified the process moved on to finding the best clubhead. Based on his experience O'Donnell had an idea which clubheads were the most likely to produce the results he wanted and selected those for testing on the Fujikura shaft. Each head was hit at least six times and a couple as many as a dozen. Analyzing the results the number of heads was narrowed down to two low spin models, the Ping G400 LST and the Callaway Great Big Bertha Epic Sub Zero. When mated with the Fujikura shaft both produced much improved results over Scott's JetSpeed, more distance and less left to right slice.
After hitting each of them again the decision was made to go with the Callaway on the strength of slightly lower dispersion and the fact Scott liked its looks at address. All of this took almost two hours but when we left Scott had a set of specifications for a new Callaway Great Big Bertha Epic Sub Zero driver with a stiff flex 45-inch long Fujikura Pro Green 62 shaft. He told O'Donnell he wanted to think over spending the money, $500, and would get back to him if he decided to buy.
Two days later a text message from Scott said he was going in after work to place the order and a week later his driver arrived. Needless to say, he could hardly wait for the weekend to put the new one-wood into play and the following Saturday Scott phoned driving home from the course.
His first words were, "I'd say the driver is an A+. Now when I walk on the tee I'm looking forward to it. I measured at least one of the drives to over 270."
He continued saying, "I hit eight of 14 fairways and only one drive was way out to the right."
Wonderful news, not just because it was a validation for Scott having spent all that money but the enthusiasm in his voice was great to hear. By way of comparison, with his old driver Scott often didn't hit even one fairway a round and 270 was just a dream.
A couple of other points. To put to rest comments sometimes heard about the fitting process at some retailers, neither Sam O'Donnell nor PGA TOUR Superstore receive extra compensation for specifying clubs of any manufacturer nor does O'Donnell receive a sales commission when a driver is sold. O'Donnell put it simply, "We just want players to walk out of here with the best clubs for their game."
Scott's evaluation of the fitting experience at PGATSS can be summed up easily, he told me he is going back to have irons fit.
The lesson for golfers of all levels is the better-suited the clubs the better the results. A professional level fitting is making an investment in our future enjoyment of the game.