Cobra likes to stress the sophistication and ingenuity of their club design process and can point to any number of innovative features over the years as proof with the 2019 KING F9 Speedback family particularly the drivers certainly on that list. Their approach, which often can be labeled "outside-the-box" has led the R&D team headed by Tom Olsavsky to make use of the Metal Injection Molding (MIM) fabrication technique. It is usually employed to make really intricate shapes but now for the first time the entire head of a golf club, the KING MIM Wedge.
MIM-made parts have shown up as tungsten weights inside clubheads and the precision it provides is way out in front of either the usual casting or forging of heads with a significant advantage. The MIM process produces a clubhead that requires very little finishing and no hand polishing, a real savings of time and money.
"At COBRA Golf, we work to create new products that offer a tangible benefit to our consumers. Our innovative manufacturing processes work to reduce variables, helping golfers have a more consistent, improved game," said Olsavsky, Vice President of R&D. "The KING MIM Wedges are astonishingly soft and precise, to give golfers the best performance in their short games."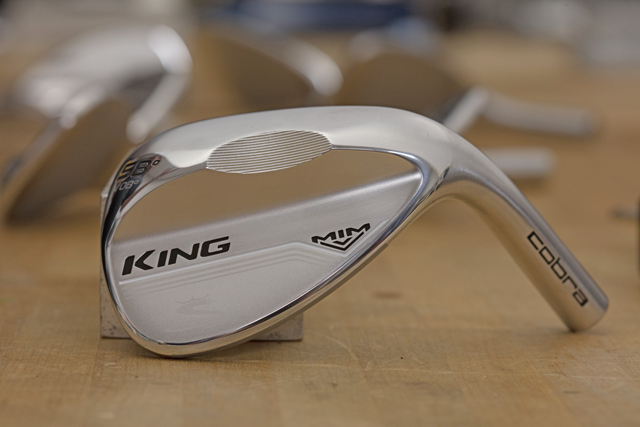 Without getting too technical Cobra's MIM process involves mixing powdered 304 stainless steel with a polymer binder and pressing the mixture into solid pellets which are then heated until they have the consistency of paste. This paste is injected into the clubhead mold and heated to remove the binder so only the metal remains. The head is sintered or heated again, this time to 1340° C (versus 1200° C used during forging) to weld the particles of metal together ready for a secondary CNC milling and robotic polishing.
As a comparison Cobra tells me that MIM produces shape and weight tolerances 50% tighter than conventional casting
Critical to creating the completed head which has a noticeably softer feel is the sintering at such a high temperature closer to the melting point of the steel, so it produces a very uniform grain structure. Microscopic examination shows the MIM wedges have smaller and more evenly spaced voids compared with either forged or cast heads.
Cobra also used a progressive groove shaping with narrower and deeper grooves on the lower lofted 50°, 52° and 54° and somewhat wider and shallower on the higher lofted 56°, 58° and 60° wedges. In between the grooves is a circular milled pattern centered low on the face and radiating towards the top and edges that helps to give the maximum of spin across the entire face.
Brand & Model: Cobra Golf KING MIM wedge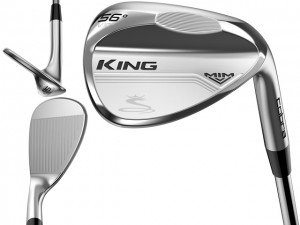 Key Features: The first MIMed clubhead Progressive Groove shape
Price & Availability: $149 each with KBS Hi-Rev 2.0 (125g) steel shaft–in shops now Need to Know: Very soft feel from head's dense grain structure. All lofts have Cobra's Versatile Grind sole used by Rickie Fowler with added toe relief to allow face open or face closed strikes. Confidence-inspiring head shape with chrome plated finish. Stock Golf Pride Tour Velvet grips come Cobra Connect Powered by Arccos standard at no extra charge.