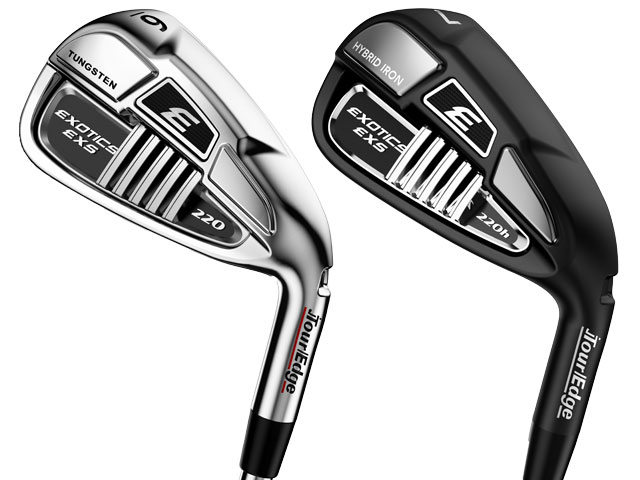 Two new irons have been introduced by Tour Edge Golf, a game-improvement category model EXS 220 and the super game-improvement EXS 220h.
"These two new irons sets take us into the realm of offering next-level distance coupled with extreme forgiveness in both game improvement and super game improvement designs," said David Glod who is both Tour Edge's president and Master Club Designer. "We have long been a trail blazer in hollow-body irons. These two gorgeous iron designs encompass every performance benefit this emerging technology provides."
A set of the EXS 220 model (in a good-looking platinum chrome finish) consists of the long and medium lofts (4 to 7) made with a hollow body construction and a forged maraging steel 450 Cup Face to help playability for average golfers. The higher lofts (8 to GW) are cast 431 stainless steel cavity backs. All have a 19-gram tungsten internal weight that provides a couple of benefits including  extreme toe weighting for more forgiveness and a larger sweet spot to help maintain ball speed when impact is not exactly in the center of the face.
The EXS 220h irons are 17-4 steel hollow bodies with a confidence-building brushed black satin finish. The 'h' stands for a "hybrid" iron set designed to meet the dual goals of providing less skilled players with the distance and forgiveness of metalwoods while having the feel and control of a progressive offset forged iron. The center of gravity is deep in the head for higher launch, resistance to twisting is enhanced by a wide sole and perimeter weighting while cup face construction gives added ball speed.
SpeedTested Shafts are stock for both the EXS 220 and EXS 220h and after extensive robotic testing matched to the heads for three levels of swing speed.
"This new way of looking at how to pair custom shafts is unique to the industry," said Glod. "We have invested heavily in R&D and one of the first things we did with our new in-house swing robot was to test at different speeds. This has led us to do a bit of pre-custom shaft fitting for anyone buying EXS 220."
"Our testing showed that the performance of a shaft at a certain swing speed performed much better than at another speed in almost every speed test we did," said Glod. "It made perfect sense to us to offer the best performing stock shaft per flex and speed, instead of the traditional approach of assigning one family of shafts to all flexes that perform differently at different speeds."
Up to 85 mph driver swing speed: KBS TGI Tour Graphite 50g Ladies or 60g A-Flex.
85 to 95 mph driver swing speed: KBS TGI Tour Graphite 70g Regular, 80g Stiff, TrueTemper XP85 85g Regular or TrueTemper Elevate 95 95g Regular
Over 95 mph driver swing speed: TrueTemper XP85 85g Stiff, True Temper Elevate 95 95g Regular or Project X HZRDUS Smoke Black 80g 6.0 Stiff  80g 6.5 X-Stiff
Both new iron models have Tour Edge's SpiderWeb Variable Face Thickness design on the face's interior surface that helps to preserve ball speed over a wide area of the face. A TPE polymer inside the clubhead has a gel coating to absorb impact shock and increase face rebound.
WYNTK EXS 220 Irons

Game-improvement category
Hollow body 4-7 irons forged maraging steel face cup
8-gap wedge cast cavity backs 431 stainless steel
Platinum chrome finish 19-gram tungsten toe weight
SpiderWeb variable thickness face
Shock absorbing TPE polymer LaunchPad Technology
Strong lofts for more distance with traditional trajectory
Added heel and toe relief for reduced turf drag
SpeedTest stock shafts
Retail $109.99 steel per iron $129.99 graphite
At retail Feb. 1, 2020
WYNTK EXS 220h

Super game-improvement category
All hollow body construction
Brushed black satin finish
SpiderWeb variable thickness face
Shock absorbing TPE polymer LaunchPad Technology
Strong lofts for more distance with traditional trajectory
Progressive offset
SpeedTest stock shafts
Retail $129.99 per iron graphite, $109.99 Steel
At retail Feb. 1, 2020