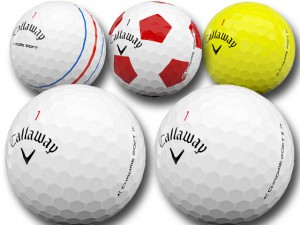 Four years can be a long time and in golf equipment it can be a very long time. Looking at the ball segment of the equipment business four years ago Bridgestone Golf was riding high with a market share in the high teens making it a strong competitor to Titleist and Callaway Golf introduced the Chrome Soft ball. What followed was the Chrome Soft and its successors took over the number two spot with a combination of technological innovation and Bridgestone seeming to lose its way.
The original Chrome Soft while not the first "soft" ball was different than competitors since it was targeted for use by better, read higher swing speed, players. It was a 3-piece construction soon to be 4-piece the following year and was joined by in 2017 by the X version which was a firmer for those with the highest driver speeds. Chrome Soft X had a lower trajectory than its older brother, a more piercing flight and was more workable because of higher spin.
For the 2020 season and after a $50 million investment for manufacturing improvements in their Chicopee, Mass. ball manufacturing plant Callaway is introducing a new Chrome Soft and Chrome Soft X still with performance differences. Both feature reengineered cores and thinner urethane covers with the Chrome Soft having a higher trajectory and the Chrome Soft X a flatter ball flight.
Both will be available in white or yellow, the Truvis "soccer ball" cover and with or without Callaway's Triple Track alignment lines. They will be in shops on Mar.12 for $47.99 per dozen
WYNTK Chrome Soft Larger Dual SoftFast Core with graphene infused Higher launch lower spin Proprietary ionomer mantle system Thinner urethane cover Dimple design for reduced drag
WYNTK Chrome Soft X Large SoftFast core Soft inner mantle firmer outer mantle Thinner urethane cover Dimple design reduces drag penetrating flight