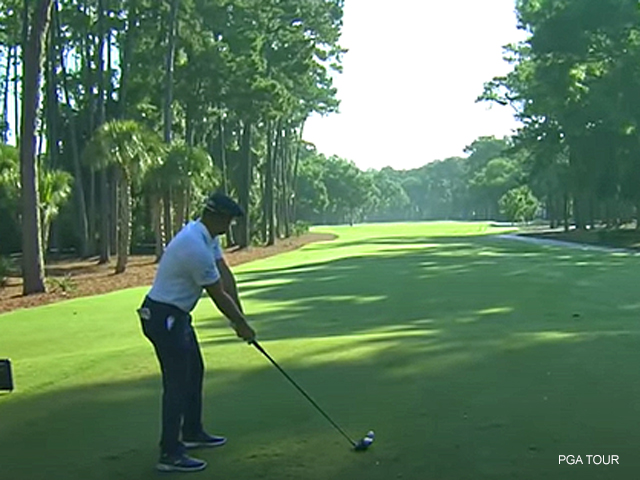 Bryson DeChambeau's performance with a driver during the Charles Schwab Challenge at Colonial Country Club was an easy target for those who "view with alarm" the distance PGA TOUR professionals are hitting the ball.
The bulked-up young Californian was impressive leading the field in driving average with 340.3 yards including a 367-yard blast on Sunday that must have given heart palpitations to those opposed to this example of athleticism and technology. DeChambeau finished the tournament in a tie for third behind winner Daniel Berger.
Typical of the negative reaction to DeChambeau's ability to hit the ball prodigious distances was that of former European Tour player Colin Montgomery who told the BBC as reported in the New York Post, "I'm an advocate of what Jack Nicklaus proposes — a tournament ball for professionals, that goes only 80 to 85 per cent as far. The time has come because we can't be building courses at 10,000 yards."
As I have often pointed out this reason doesn't make sense but those promoting a ball roll back usually add, as did Montgomery, "We haven't the money or the space and there are the obvious ecological reasons. A tournament ball would be a massive step, because of that term 'bifurcation' [professionals playing by different rules than amateurs]. Yet haven't we reached that stage, now? We've seen at Colonial that something has to be done or these classic courses cannot be used."
Montgomery joins Nicklaus, Gary Player, USGA CEO Mike Davis and others wanting "something to be done" and that something seems to focus on the golf ball though a few have mentioned reining yardage in by reducing allowable driver head size. As I have written on several occasions these opinions simply don't mesh with reality.
It is almost as though they are saying since I am who I am you must agree with me and don't bother me with facts. Opposing views often do not receive much if any attention but to provide at least some balance no less an authority than the Golf Channel's Brandel Chamblee tweeted after the Genesis Invitational, "Riviera proved this week, just as Merion did at the US Open in 2013, that courses designed in the golden age of architecture are not made obsolete by today's equipment. Firm conditions and green speeds that allow the use of interesting contours is all that is needed. And trees."
You can also add Frank Thomas, inventor of the graphite shaft and former Technical Director of the USGA who put it succinctly. "Fortunately, the laws of nature are playing an important part in governing the distance the ball will travel, while the athleticism of the elite golfers – about 0.1% of the golfing population – has changed, as it has in all other sports. Unfortunately — for most of us – this has not been as significant a change."
Further pointing out the inconsistency of the argument for less distance are those lamenting "old venerable courses" can no longer hold tournaments while ignoring the fact several of these layouts have already been modernized with more yardage, added bunkers and even lengthened rough. Plus, many venues do not have enough room for the tens of thousands of fans, hundreds of media, extensive television compounds, parking, and most significantly corporate pavilions sold by the tournament for millions of dollars.
The PGA TOUR and the fans want the long ball for a simple reason, it is fun and exciting and shows off how good these guys are. Accepting that a major source of advertising dollars are from club companies touting their latest and greatest, Hank Hany hit the nail on the head with his comment, "Fans don't go to a baseball game to see bunt singles." It is the same for tournament golf and remember if DeChambeau is the longest now (he isn't Cameron Champ is by 0.3 yards) he is still going to be longest if the anti-distance advocates get their way. In golf length is always an advantage just as height is in the NBA.
Long time broadcaster Gary McCord pointed out in a Golf.com article mandating rules to shorten the ball distance would be closely followed by lawsuits. Can you believe Acushnet would sit on the sidelines when "Tour validation" is a marketing benchmark of their dominating Titleist Pro V1?
Seems like golf has more pressing items than being providing income for the legal profession such as figuring out ways to grow participation and stemming the conversion  of golf courses to housing tracts.
There was no comparable much less significant coverage of DeChambeau's driving performance this past week during the RBC Heritage at Harbour Town Golf Links. For the record, he earned a tie for eighth behind Webb Simpson with a driving distance average for the week of 295.9 yards which was seventh longest.
Different weeks. Different courses, but that's golf or have we somehow forgotten?