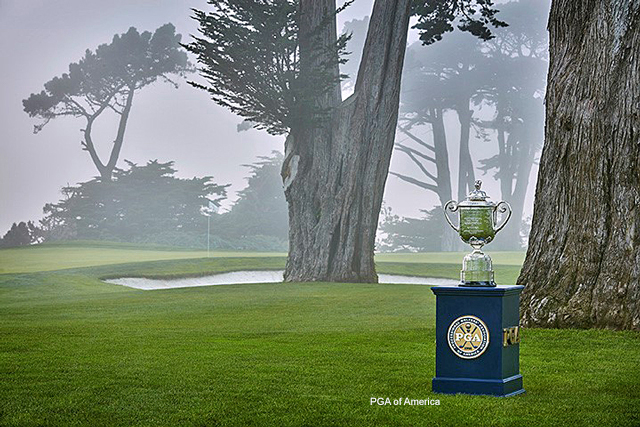 A few random thoughts about the PGA Championship.
The weather for the 102nd PGA Championship at TPC Harding Park, which is sandwiched between San Francisco Bay and the Pacific Ocean, was distinctly un-August like with the high for the week only 68 degrees.
Puffer jackets and hoodies were more in evidence than short shorts and sandals. The cool, wet playing conditions with, at times, significant wind gave everyone problems.
The pretournament story lines included Brooks Koepka trying for third consecutive PGA Championship and Dustin Johnson looking to cement a spot in the World Golf Hall of Fame. Collin Morikawa spoiled both hopes with a final round 64 in this, the first and only major of the 2019-2020 season.
Morikawa beat golf's best with a simple if not old-fashioned formula. Not the longest by any means off the tee (T40) he was first in driving accuracy, hit more than 70% of the greens (51 of 72 for T7) and was an astounding 8.076 strokes gained putting better than the field.
So much for bomb and gouge.
Tiger Woods playing to win major number 16 proved teeing it up only once per month does not work and finished in a tie for 37th. His previous outing had been the Memorial in July; however, he will be playing in two weeks at The Northern Trust. Woods' driving and iron play was adequate (mediocre?) but a 49th in strokes gained putting was anything but stellar. Winners may get away with average play in one aspect of those three but never in all of them.
Without fans on the course television ratings were spectacular even considering early round action required purchasing a subscription to ESPN+.
Speaking of the coverage, the combination of anchor Jim Nance and Nick Faldo was measurably strengthened on Saturday by Phil Mickelson visiting the broadcast booth. Some are calling it Lefty's audition as a color commentator but do not look for him on a regular basis. He enjoys playing too much and is often competitive. Besides since he is the golden age of 50 the PGA Tour Champions is always an option.
The abbreviated 2019-2020 season has four more events ending with the Tour Championship at East Lake Golf Club ending on Labor Day. The 2020 U.S. Open (Sept. 17-20) and 2020 Masters (Nov 12-15) will be part of the 2020-2021 schedule giving the new season six majors.