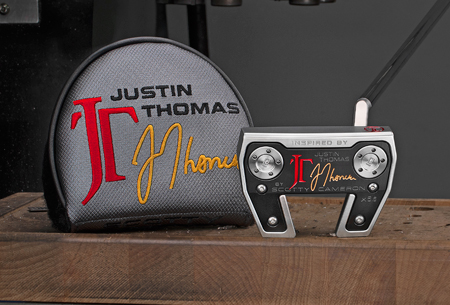 Four years ago, Justin Thomas had some ideas for a modified putter which have now resulted in Scotty Cameron making the limited edition Phantom X5.5 mallet.
Fast Facts Scotty Cameron Phantom X5.5 putter:
Solid milled 303 stainless steel head & face
Aluminum sole plate
Full shaft offset, 3.5° loft
Hand welded small slant neck
10-gram changeable sole weights
Pistolero Plus stock grip
At retail Sept. 22, $850
WYNTK:
Titleist's Scotty Cameron putter division has created a new model tagged the "Inspired by Justin Thomas Phantom X5.5 putter." It is a limited edition of 2,020 and built to the putter specifications Thomas has used for 12 of his 13 wins on the PGA Tour.
The solid face is milled from 303 stainless steel and extends to cover the two side wings and with the aluminum sole plate, helps to provide higher resistance to twisting and impact stability. Shaft length is a standard 34.5 inches and the heel and toe weights of stainless steel can be switched out if desired to customize the setup.
The slant neck is shorter than usual, and each is welded by hand. Markings include a special "Circle JT" on the face heel and Thomas' signature designed into the sole.
Builder Scotty Cameron said, "Justin Thomas is one of those unique players who only comes around once or twice in a generation. He first visited the Putter Studio as a young amateur when he played a Newport 2. JT loved that traditional putter look. But even after getting his first tour win with the blade, he started to consider a change. He poked around our putter bag on the Tour Van and was initially drawn to the Futura X5 – the compact mallet shape really suited his eye. After some back-and-forth discussions, I welded him a small slant neck as a prototype setup – and here we are, 12 PGA Tour wins later and still counting with the same putter – including a major championship, two World Golf Championships and a FedEx Championship. Players are always asking me for a welded-neck putter like JT's. It's a special setup that deserves this kind of treatment."
YouTube links:
https://youtu.be/Q9DJouVB0V4
https://youtu.be/c2RUV6Sa7Tg