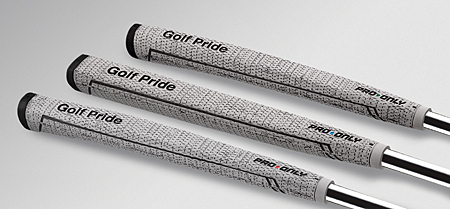 Golf Pride's Pro Only putter grip line now includes a cord series in three popular shapes.
Fast Facts Pro Only Putter grip:
Red Star
Modified horseshoe cross section
Arched paddle front
Pistol kick in the back.
72cc/74.5g
Green Star
Oval shaped cross section
Arched paddle
Upper hand flared back
88cc/86.5g
Blue Star
Flat paddle front
Angled profile and back
81cc/82g
WYNTK:
The addition to the Pro Only line has a brushed cotton cord surface and the paddle front helps consistent thumb placement for and style grip. Feel is firm to help produce concise control.
"The most consistent players on the green, understand the importance of feel and its connection to a successful putting stroke," said Bruce Miller, product manager, Golf Pride. "The PRO ONLY family really facilitates players realizing improved feel and feedback in their putting, allowing them to roll the ball with better speed control and more confidence.  With PRO ONLY CORD, we have maximized those attributes, with our cord technology delivering even greater levels of tactile feedback with every stroke."