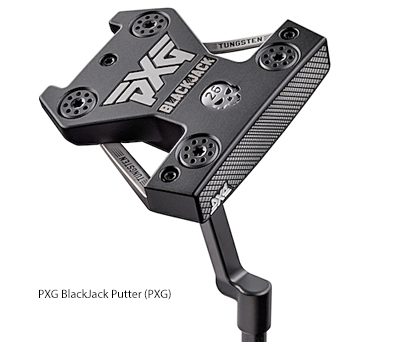 PXG has announced the initial offering in the Battle Ready putter series, the Blackjack mallet, which the company says offers a high degree of forgiveness.
Fast Facts PXG Blackjack putter
Mallet head milled aluminum head
Two tungsten and two titanium sole weights
Three shaft bend options
Crosshatch variable depth face grooves
Order online or custom built by appointment
$395
WYNTK:
Parsons Xtreme Golf (PXG) has brought to market the first of their new Battle Ready Collection of putters, the Blackjack, which is a top of the line milled mallet head model of aluminum with four interchangeable weights allowing customized to fit the user's requirements.
Based on the hosel chosen: double bend (half shaft offset), heel shafted (half shaft offset) or plumber's neck (full shaft offset), the standard head weight varies form 360 grams to 380 grams with a minimum of 330 grams and a maximum of 420 grams. The center of gravity is towards the rear and the weighting scheme provides a high resistance to twisting at impact.
The face grooves are a pyramid pattern of variable depth to give a similar roll wherever impact is across the width.
"From MOI and CG location to balance and stability, we've optimized absolutely everything on our new Blackjack Putter," PXG Founder & CEO Bob Parsons said in the press announcement. "Since putts account for roughly 40 percent of shots taken, why not put the odds in your favor with PXG's Blackjack Putter?"
A weight kit with eight weight and wrench is included.