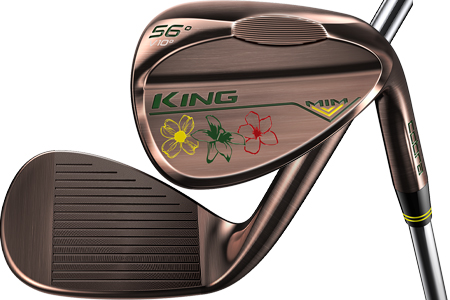 Paying tribute to the flowers usually in bloom in Masters' Amen Corner, Cobra's limited-edition King LE MIM wedges use a Ricky Fowler validated grind.
Fast Facts Cobra King LE MIM Wedges:
Metal Injection Molded (MIM) 304 stainless steel
Tour grind – added heel and toe relief
CNC milled face and grooves
Limited edition
Stock shaft; KBS Hi-Rev 125
Stock grip: Lamkin Crossline Connect
Available now only 56° loft right hand
$199 in shops and on cobragolf.com
WYNTK:
Cobra extends their wedge offerings manufactured using the MIM process with the limited edition LE MIM model. Compared to forging or casting of clubheads metal injection molding produces a very tight grain structure in the steel while drastically reducing post-forming finishing. The company says the feel is exceptionally soft which better players want in order to hit "touch shots" around the green.
The sole grind has a medium bounce with toe and heel relief to aid in shot versatility. As on previous wedges in this series the trailing edge of the sole is cutaway or notched area to allow the leading edge to stay close to the ground without adding bounce.
LE MIM wedges come with the Cobra Connect swing sensor in the grip that uses the Arccos Caddie smartphone app to track shot data.