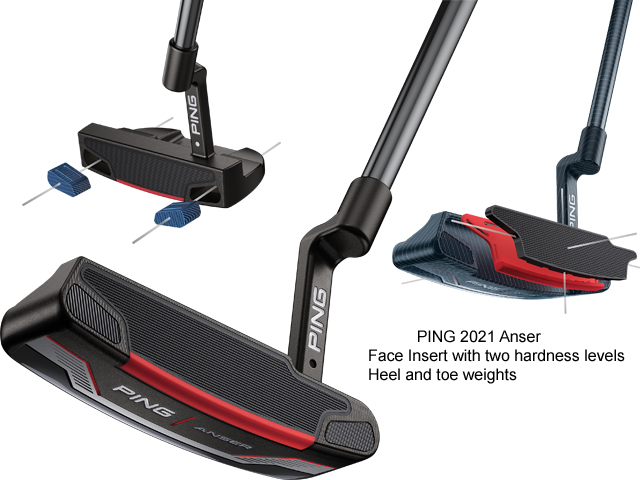 Ping's 2021 putter series offers eleven models including three versions of the venerable Anser plus an armlock mallet. All make use of a dual layer face insert designed to be soft in the outer layer and firmer in the rear layer.
Fast Facts Ping 2021 Putters
Multi-material head
High MOI design
Face insert soft front layer firm back layer
Shallow grooves
Black PVD finish
Blades ($270 each): Anser, Anser 2, Anser 4
Deep blade ($270): Kushin 4
Mallets ($270): DS 72, CA 70, Tyne 4, Fetch, Tyne C, Oslo H
Mallet ($380): Harwood, Harwood Armlock
WYNTK:
Ping's latest putter introduction has something for everyone from classic blades to mallets in a variety of head shapes. Each has a PEBAX face insert of two layers with the outer layer having uniform shallow grooves. The outer layer is softer for short putts when the stroke has less energy, and the rear layer is firmer for longer putts that must be hit harder.
"We've engineered a lot of score-lowering technology into the 2021 putter line through extensive research and tour player feedback," said John K. Solheim, PING President. "All of the models are developed with higher MOI through strategic use of various materials, including tungsten, steel and aluminum, to provide the forgiveness and accuracy golfers expect from a PING putter. The dual-durometer insert features uniform, shallow grooves to give golfers a soft, responsive feel for more consistent distance control with the precise touch they need to hole more putts. We've also advanced the visual cues depending on the model to help make alignment easier and more natural when addressing a putt."
The Anser, Anser 2 and Anser 4 have a head of stainless-steel head featuring tungsten weights in the heel and toe and Ping says this raises the MOI, the resistance to twisting, to a higher value than any of the previous versions.
The Kushin 4, DS 72 and Tyne 4 have a steel weight in the heel and a tungsten weight in the toe while the Fetch and Oslo H use a cast 304 stainless steel body and aluminum sole plate helping to distribute head mass around the entire perimeter.
CA 70's stainless steel sole weight lowers the center of gravity of the aluminum body for better forgiveness when impact with the ball is not in the center. The Harwood delivers the highest MOI in the line because of the machined 6061 aluminum body has a total of 93 grams of tungsten in the four corners.