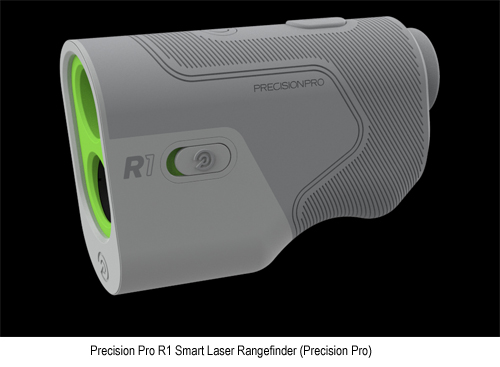 Coincident with the PGA of America allowing rangefinders at this week's PGA Championship, Precision Pro introduced their latest model at a middle of the road price, the R1 Smart Laser with an app that links GPS smartphone yardages.
Fast Facts Precision Pro R1 Laser Smart Rangefinder
GPS distances Bluetooth paired with smartphone
6x magnification
400 yard range
Vibrates when locked on flag
Slope adjustment with on/off
Calculates effect of wind
App has lost device tracking
$319.99 available mid to late June
WYNTK:
If you are looking for a plays-like yardage several laser rangefinders can do that, but Precision Pro's R1 Laser Smart Rangefinder has a new wrinkle. Using the free app on your smartphone R1's MYSLOPE feature takes over and linking with the phone's GPS for uphill/downhill in combination with the lasered distance the effective yardage is displayed. In addition, the app compensates for altitude, temperature, and humidity…about all it doesn't do is swing the club.
The Bluetooth smartphone link also overcomes the single largest laser rangefinder drawback namely distance to the front, back and center of greens but with the phone's GPS, these yardages are shown as well.
There are some other well thought out features such as a magnetic strip so the R1 attaches to a cart and Precision Pro provides replacement batteries free of charge for life plus the unit is shock proof and water resistant.