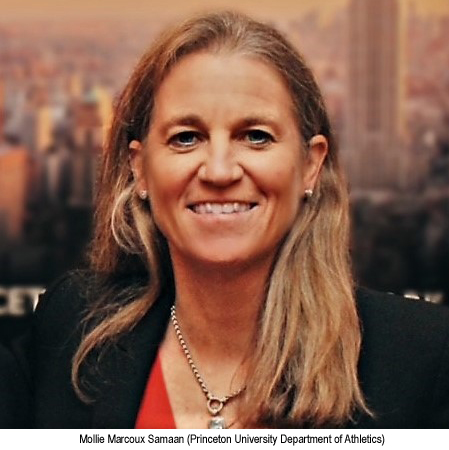 The LPGA Tour has named a new commissioner, Mollie Marcoux Samaan presently the Director of Athletics at Princeton University and her task will be to chart the future for the most successful women's professional sport.
In February current Commissioner Michael Whan announced that he was leaving to assume responsibilities as CEO of the United States Golf Association and immediately speculation concerning the LPGA Tour arose.
Whoever replaced Whan would have to break new ground for the LPGA by building on his eleven-year tenure during which the number of tournaments increased by 40% and prize money by 80%. Also among his accomplishments were further integration of the developmental Symetra Tour, initiation of an agreement with the Ladies European Tour and focusing on the LPGA-USGA Girls Golf Program increasing participants from 5,000 to 90,000.
Whan is a tough act to follow but there is an opportunity.
We can only wish Marcoux Samaan the best and that she understands growing the relationship with LPGA Tour fans comes first and that will produce a cascading effect of sponsors receiving more benefit from their involvement, then more tournaments and bigger prize money for players. By way of comparison, the marketing machine we know as the PGA Tour will pay out more than $450 million in 50 events this season and because women's professional golf ticks all the boxes there is no question the LPGA Tour has lots of potential.
Marcoux Samaan surely understands the games' growth is good for each of the country's 25 million golfers with girls and women being the critical demographic to both take up the game and enlarge the Tour's fan base. Additionally, the LPGA needs to take a strong stance in the USGA's future decisions regarding equipment restrictions to ensure the voice of average golfers, not just women, is heard.
The LPGA Tour is global tour with European and Asian swings however the schedule has "off weeks" available and Marcoux Samaan needs to fill them profitably. The LPGA and PGA of America already partner in the KPMG Women's PGA Championship with great success and there must be other chances to work with the PGA in cosponsored events. Formerly the LPGA Tour and PGA Tour held a team event that was great fun for fans. Could this be revived? How about events for the women and the men over the same course at the same time or season long challenges of male/female teams scored during events on the respective tours?
Marcoux Samaan does not have an easy task facing her however there is an opportunity to make the game of golf better, not just for women but for all of us.