After having had the opportunity of putting with one of Odyssey Golf's Versa putters I came away with two strong impressions.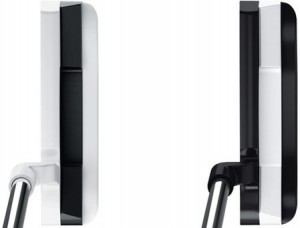 First the feel and balance is what we have come to expect from this top line putter company. A solid, confidence producing impact gets the ball on line quickly and distance control is not a problem. Secondly, the contrasting black and white paint scheme was hard to become comfortable with since on the model I was using, the Versa #1, there is no sightline. This however is not true for all Versa models, some of which do have a sightline and of course there is one with the now standard Odyssey 2-ball alignment aid. 
All Versas have a White Hot insert which of course contributes to the solid feel the putter produces.  
"We set out to design a distinctive and highly effective alignment system for a blade putter," said Austie Rollinson, Principal Designer. "The human visual system is both sensitive to contrast and very good at complex tasks such as edge detection. We utilized both of these skills to create a very effective alignment aid that helps golfers putt more consistently, and sink more putts, too." 
A new laser milling cutting process allows Odyssey to achieve tight tolerances and to better match insert shapes to the various head shapes – most of which weigh in at 343 grams with the exception of the 2-Ball head which weighs 355 grams. 
The line has four head shapes from blades to mallets plus the 2-Ball. The #1, #2, #7 and #9 models are available in black/white/black and white/black/white combinations. The #7 90 models are also available in both color options, but feature a front-to-back alignment aid. The 2-Ball model comes only in one option, white/black/white. All models carry a price of $169.99 and may be purchased in a 33″, 34″ or 35″ length shaft plus Odyssey's usual plethora of custom options.