It's a watch – it's a timer – it's an alarm – it's the latest in the interesting new GPS rangefinder watch category and perhaps best of all it's from the makers of the long time leading laser rangefinder on the Tour, Bushnell.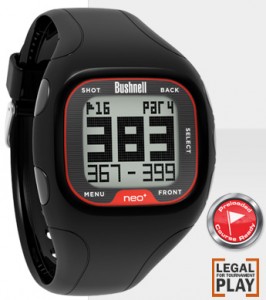 The NEO+ Golf GPS Watch is easy to operate and lightweight providing front, back and center yardage for play at 25,000 preloaded courses plus it lasts for up to 14 hours on a charge. There's good news also as far as the annual fee is concerned, there is none so all you need to do is strap it on and tee it up.
Terry Mears, Product Director at Bushnell said, "With the widespread acceptance of the original NEO GPS, we wanted to provide consumers with another exceptional GPS option that would provide extra benefits at an affordable cost." Mears continued, "While we may be known for our dominant laser rangefinders, at Bushnell we pride ourselves on producing industry-leading products that will give golfers the ability to enhance their game. We know that the new NEO+ watch will be extremely popular."
Available this month the Neo+ Golf GPS Watch carries an SRP of $199.95.