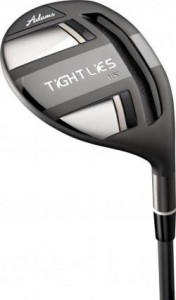 Adams Golf not only resurrected the name Tight Lies from two decades ago but has also updated the design of the fairway that made their reputation and became one of the most popular fairways ever. Many of the features that made the original Tight Lies the choice of recreational and professional players have been retained but with the addition of the crown and sole slots pioneered by Adams.
"In the ever-present pursuit of maximum distance, today's fairway woods have become mini-drivers – extremely difficult to hit from anywhere other than from a tee," said Justin Honea, Director of R&D. "The low profile design places the center of gravity (CG) below the CG of the ball, making it easy to hit the ball in the air. The unique tri-sole design makes it easy to hit from a multitude of challenging lies and then we added a refined Cut-Thru Slot design so this new Tight Lies is twice as hot as the original. It's the perfect blend of playability and performance."
According to 8-time major champion and Adams Golf staffer Tom Watson, "With the new Tight Lies, we've got a 3-wood that you can control, you can hit it out of bad lies. The most important thing for me is to know how far the ball is going to go, and with the new technology, here with Tight Lies, we can hit it where we want it to go and that's what you want in a golf club. Man, that's all I want."
In addition to the refined Cut-Thru Slots of the new version a hallmark of the original Tight Lies was the low-profile, upside-down design and it is back. This allows for a very low CG – below the CG of the golf ball, making it extremely easy to hit the ball in the air so golfers will see at once how easy it is to make solid contact from even "challenging lies."
Adams also used the original Tight Lies tri-sole to reduce interaction with turf and help shots from the fairway, rough, sand – even tight or bare lies.
Tight Lies fairway woods will come standard with the Bassara Eagle graphite shaft by Mitsubishi Rayon. Tight Lies Tour will feature the Aldila Tour Blue shaft. The Men's Tight Lies and Tight Lies Tour models will feature a matte black finish, while the Women's model will feature a matte grey crown. All models will include the familiar white half stripes low on the shaft that were also featured on the original. Tight Lies fairway woods will ship mid-August and will have a retail price of $199.99, and $229.99 for the Tight Lies Tour.
Photos courtesy Adams Golf