There's a really cool putter that has not received the attention it deserves and it's time that oversight was remedied.
Though TaylorMade Golf is mostly thought of as the dominant metalwood manufacturer, in fact their irons and putters are also top shelf as has been proven with the popularity of the Ghost series putters.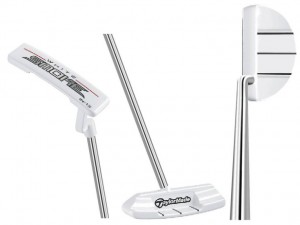 What seems to have been overlooked is the TMaG White Smoke series of putters introduced at this past January's PGA Merchandise Show. Perhaps they simply got lost in the plethora of flat stick announcements or perhaps some said if you've seen one white headed putter you've seen them all.
There are three White Smoke putters: the IN-12 (a classic blade with a crank neck hosel), the IN-74 (center shafted blade) and the MC-72 (a smoothly contoured bent shaft mallet).
Each has in pr-speak a "tour-proven white finish" which does a great job of cutting out glare, three alignment lines on the top and a soft Surlyn face insert.  
"The White Smoke Series gives golfers the opportunity to play a white TaylorMade putter with our PureRoll insert technology for the amazing price of $99," said Michael Fox, TaylorMade global product line manager, putters and wedges. "We think it's easily the best performance-bang you can get for you putter-buck, by far." 
White Smoke Series putters are available in right-handed and left-handed, and in three lengths: 33", 34" and 35". And the capstone feature of course is the price, which at $99 compared to some other putters is an absolutely great bargain.