Miura Golf joined the 460 cc driver club with the announcement of the new SIT-460 driver and as with many of the items in the Miura lineup; it's a club with a difference. According to the company it has been crafted to give the appearance of a compact clubhead unlike the usual max-sized driver.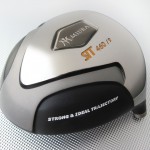 The SIT-460's ("Strong & Ideal Trajectory") titanium head is the result of the shaping by Shinei Miura, son of company founder and legendary club maker Katsuhiro Miura. The face is relatively taller, which increases the hitting area while allowing the other dimensions to be proportionately smaller thus gaining the advantages of being the largest clubhead size within the Rules of Golf.
The SIT-460 is 70 cc bigger than Miura's previous model, the Precious Edition 390 but the head actually weighs four grams less at 196 grams than the Precious Edition meaning there are additional shaft fitting options. The Miura SIT-460 is available in 9 degrees and 10.5 degrees in right-handed only at Miura dealers and carries a SRP of $595 depending on the shaft chosen. For more details go to www.MiuraGolf.com.