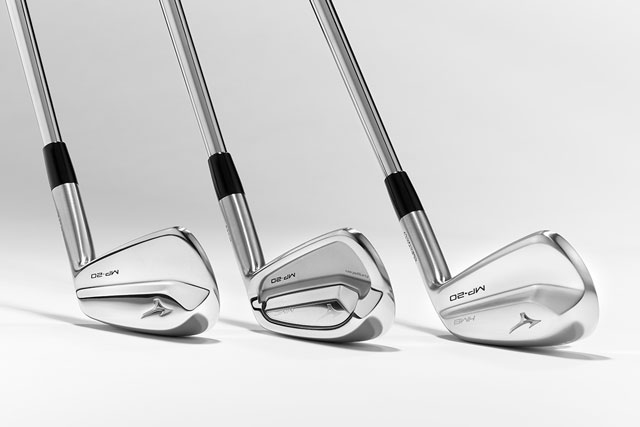 Most muscle back iron designs owe a debt at least in part to Mizuno Golf engineers who over the years have created iconic clubheads with both great looks and the performance pros and low handicappers want. The company has now again come up with an outstanding new iron series the MP-20s which replace the current MP-18s.
The most talked about feature in the MP-20s is the addition of a layer of copper underneath the exterior chrome plating to produce the softer feel much sought after by better players. The copper layer is an idea that goes back thirty years to the 1988 Mizuno TN-87s made for Japanese star Tommy Nakashima.
"Most modern muscle backs and limited 'tour edition' irons can be traced back to the great Mizuno blades. Though what makes a Mizuno iron truly exceptional is everything you can't see," said David Llewellyn, R&D Director, Mizuno Golf. "If you could peel back the chrome plating, you would find a sandwich of nickel and soft copper before the Grain Flow Forged HD chassis. Under a microscope, you can see a perfect flow of grain within the steel from the hosel to toe, compacted tighter in the hitting area. Designers can mimic our lines, but not what's inside."
The three new MP-20 models are all forged from 1025E mild carbon steel covered with a layer of nickel followed by a 4-micron thick layer of copper then another nickel layer and finally the chrome plated exterior. Mizuno expects the new MP-20 MB (Muscle Back), MP-20 HMB (Hot Metal Blade) and MP-20 MMC (Multi Metal Construction) will be played both as individual complete sets and as part of blended sets.
WYNTK MP-20 MB: Tapered blade profile for lower COG in long irons giving higher launch and a higher COG in shorter irons for lower launch. Grain Flow Forged head from a single billet of 1025E mild carbon steel, layered with copper plating then nickel chrome exterior. 5-iron 27° and pitching wedge 46°. Set 3-PW $1,300 with steel shafts.
MP-20 HMB: Hollow muscle back with tungsten heel and toe weighting in long and mid irons. Forged face and hosel lasered welded to stainless steel body. Copper layer between body and satin finish exterior. 5-iron 25° and pitching wedge 46°. Set 3-PW $1,400 with steel shafts.
MP-20 MMC: Second generation of Mizuno's Multi-Material Concept construction with thinner topline and a titanium internal plate and tungsten sole weight. Forged from same steel as other MP-20s the MMC also have layered copper with either satin or chrome finish. 5-iron 25° and pitching wedge 46°. Set 4-PW $1,225 with steel shafts.