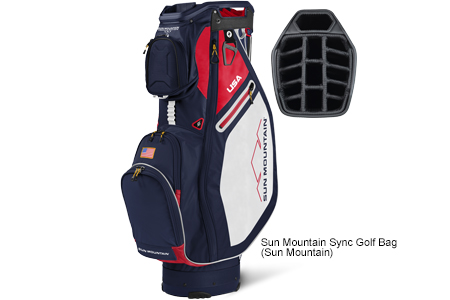 Sun Mountain's Sync golf bag is specially engineered to be used on push carts with thoughtful features like a 14-club slot top and nine forward facing pockets.
Fast Facts Sun Mountain Sync golf bag:
14-way 9.5 inch top
Single strap
5.9 lbs., two handles
Nine pockets
Durable, water resistant with rain hood
Men's six color combinations, Women's four color combinations
In shops and online now $229.99
WYNTK:
The number of players walking and using a pushcart to carry their clubs around the course has grown exponentially as golf takes over for many as the sport of choice since it easily meet even the most stringent social distancing requirements. One problem though is many carry bags, and some cart bags are not suitable to be used on one of the three-wheel "trolleys," as our friends in England say. A bag's base or top may not fit into the cart holders or when in place one or more of the bag's pockets cannot be reached without taking the bag off the cart.
Sun Mountain already known as the leading golf bag company in North America and makers of an excellent line of push carts has the answer, the Sync a purpose-designed bag for push carts.
According to the company they started by shaping the new bag's top and bottom "to nest in the upper and lower bag wraps of Sun Mountain carts." All of Sync's nine pockets face forward including a water-resistant velour line valuables pocket, a lined pocket for a rangefinder and even a cooler pocket for beverages that allows air to circulate.
The club dividers are all full length, a nice feature since Sun Mountain knows jamming clubs into just a few slots can damage and reduce the life of grips.