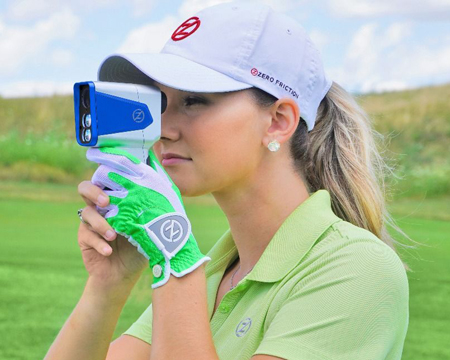 Accessory maker Zero Friction has entered the rangefinder business with two pistol grip models having a range up to 1,000-yards, the Laser Pro and Laser Pro SM.
Fast Facts Laser Pro rangefinder:
Range up to 1,000 yards +/- 1 yard
LCD display with 6x magnification
Vibrates when locked on target
Scan and pin lock modes
Pistol grip handle
Weight 6.5 oz.
Waterproof carrying case
SM model measures slope
Laser Pro $229.99
Laser Pro SM $329.99
WYNTK:
Many serious players consider a laser rangefinder to be as much a part of their equipment as the glove they wear and the latest to enter this market segment is Zero Friction with two models, the Laser Pro and Laser Pro SM.
"We wanted to be in the laser business but didn't want to make another 'me-too' palm-held unit," said John Iacono, Zero Friction Founder. "What we really wanted was a pistol-style grip. It's simple to use. It's much easier to hold steady in your hand than a unit that sits in your palm. It vibrates when it locks in on the target. So, we ended up with exactly what we wanted: A unique product with impressive technology that fits our brand."
Among features of this medium price category rangefinder is the comfortable rubber surfaced grip that makes the unit easy to use with one hand and the 6x magnification LCD display so that selection of a specific target such as a flagstick is readily accomplished.
The Laser Pro SM measures uphill and downhill slopes allowing the user to make any necessary compensations in club selection plus there is a magnet in the handle for attaching the unit to a golf cart or pushcart.
Zero Friction also includes at no charge with each of the rangefinders their smartphone distance measuring app with 36,000 courses preloaded.