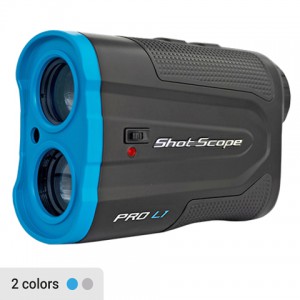 In an expansion of their GPS-based wrist unit product line Shot Scope has introduced the PRO L1 Laser Rangefinder at a golfer-friendly price.
Fast Facts PRO L1 Laser Rangefinder
Lightweight, water resistant
Sloped adjusted distance
6X magnification up 875 yards
Target Lock Vibration
Weight 205 grams
Carrying Case, lanyard
$199.99
WYNTK:
The PRO L1 from Shot Scope has a lot of the features of more expensive laser range finders such as being able to show yardages adjusted for the amount of up or down slope in a shot, at a modest price. This Advance Slope Technology can be toggled on and off to comply with USGA Rules and combined with the 6X optics makes for a very useable package.
There are three modes: speed for a quick reading, golf with slope and target-lock vibration plus continuous scan. The display can be switched between black and red numerals and shows in yards or meters to suit the user. On the course the PRO L1 worked the way we expected and compared almost exactly with the cart mounted GPS at the facility we were playing. The exception, as always, being the pin's location from the front, back and center that the GPS unit reports.
We liked Shot Scopes V3 Smart Watch introduced last summer and the PRO L1 is another quality accessory to help your game.
David Hunter, CEO, Shot Scope said in the product announcement, "This is an exciting time for our company. Following the successful launch of the PRO L1 in Europe, we are now introducing this innovation in the United States. While this is our first rangefinder product, golfers can expect what they have come to know from Shot Scope over the past number of years. They will get the ultimate in performance and accuracy, at an affordable cost. We are extremely proud of the technology in this rangefinder."