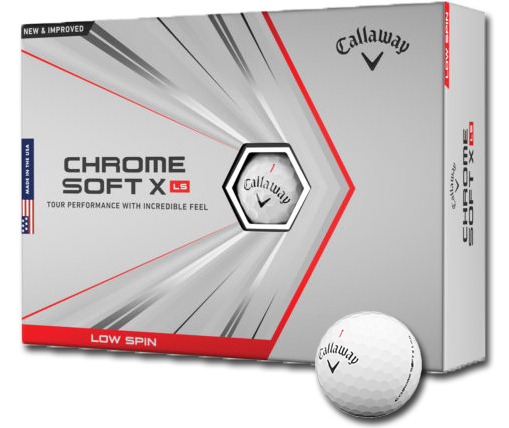 Callaway Golf fills out the Chrome Soft golf ball family with the X LS, a four-piece urethane cover model targeted for play by high swing speed players wanting a soft-feel ball with low spin off the tee but low launch and high spin with short irons.
Fast Facts Callaway Chrome Soft X LS
Premium better-player category ball
4-piece construction
Urethane cover, single core, dual mantle
At retail March 18, $47.99 dozen
WYNTK:
In the past six years Callaway Golf has taken over a strong second place behind Acushnet in the golf ball business and the standard Chrome Soft is the third best-selling ball in the U.S. The Chrome Soft, a soft-feel distance ball, found success with recreational players due to the feel while producing more yards off the tee. There was also a lot of publicity around the company's PGA Tour endorsement staff playing the Chrome Soft X that came out two years later in 2017. The X is firmer and longer with slightly higher driver spin plus higher spin with short iron scoring shots. In the past three years most of Callaway's Tour staff have switched and it is rated as the longest premium category ball the company makes.
Since 2019 Callaway has invested $50 million in the Chicopee, Mass. ball plant giving them an increased production plus improved quality control and also more latitude in bringing new technologies and materials into the product line.
The new Chrome Soft X LS (Low Spin) grew out of Callaway researchers finding the five-layer TaylorMade TP5x had a spin profile that helped both performance off the driver and around the green. Callaway then set the goal to create a new Chrome Soft ball that retained ball speed similar to what is generated by the Chrome Soft X but with a fine-tuned lower spin profile. The result was the Chrome Soft X LS.
In essence the X LS spins less than the X on full shots yet retains the desirable higher spin characteristics for shots within 100-yards. It uses Callaway's large and soft SoftFast Core with two mantle layers and an aerodynamic dimple design on the thin urethane cover.
Callaway says the profile of the player best suited to the new ball is one who has a high swing speed, needs maximum distance because of the length of courses he plays and can benefit from lower driver spin. All this without having to sacrifice the features producing high spin and low launch around the green.
Sounds like Tour players to me.