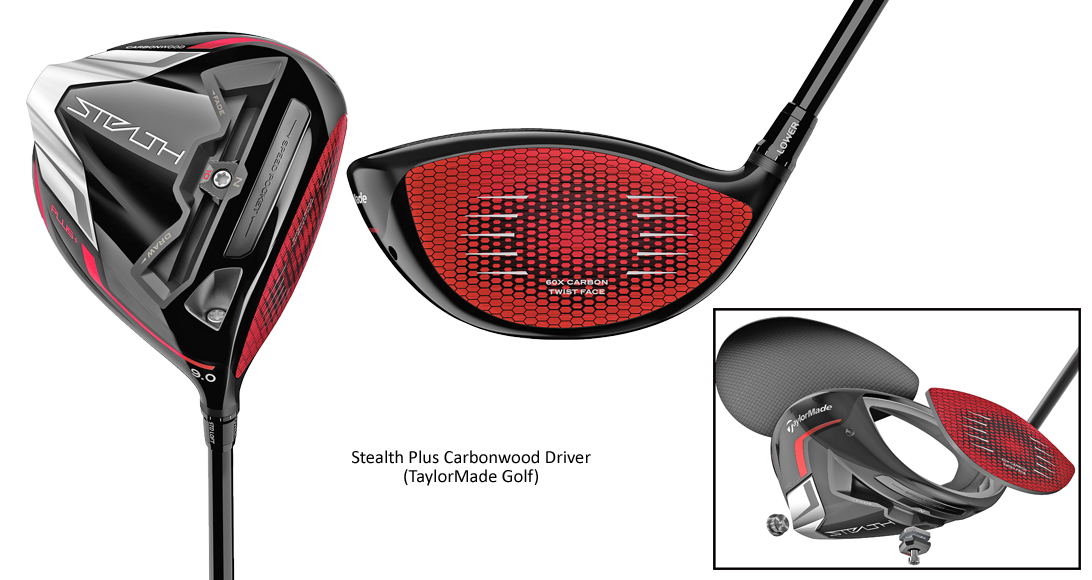 TaylorMade Golf has announced the Stealth Carbonwood driver family with a totally new and unique face, one made of carbon fiber rather than titanium as other drivers and offering what the company says are significant performance advantages.
Fast Facts TaylorMade Stealth Drivers
60X carbon fiber face
Polyurethane face covering
Twist Face
Sole slot
Carbon fiber crown
Asymmetrical sole aerodynamics
Adjustable hosel
Available Feb. 4, 2022
Stealth Game-improvement category
Stock shafts: Fujikura Ventus Red 5, Aldila Ascent Red 60
Stock grip: Lamkin Crossline 360 Black/Red
$579.99
Stealth HD  Draw bias game-improvement category
Stock shaft: Fujikura Air Speeder 45
Stock grip: Lamkin Crossline 360 Black/Red
$579.99
Stealth Plus Low spin better-player category
Stock shafts: Project X HZRDUS Smoke RDX Red 60, Mitsubishi's Kai'li White 60
Stock grip: Lamkin Crossline 360 Black/Red
$599.99
WYNTK
TaylorMade Golf, a longtime leader in club technology, says their research has shown driver faces using titanium have reached its performance limit and a new approach was needed. Now as a result of some 20 years of research by their scientists and engineers a material previous thought to be unsuitable, carbon fiber, is the replacement.
The company is calling it the dawn of the age of the Carbonwood.
Brian Bazzel, Vice President Product Creation was quoted, "In the mid-2000's, our Research team developed an understanding that the weight of the face can affect impact efficiency, more specifically, the lighter the face, the more efficient the impact and the better the ball speed. We realized Titanium faces could only take us so far and carbon would be the face material of the future. This breakthrough design of a lightweight carbon face in Stealth, has created a whole new starting line, a new era of drivers, a new threshold of performance and a new platform for more innovation."
Because usually carbon fiber will not hold up when used in a driver the new face is composed of 60 layers of fiber so it will withstand the forces generated by the impact of a driver and ball. To create a texture on the face a layer of polyurethane is applied which also has score lines to control spin when conditions are wet. And even though they were able to increase the face size because carbon fiber weighs less than titanium the saved weight was repositioned to improve Stealth performance.
The Stealth's carbon fiber face is a distinctive red color, so it won't be mistaken for any other company's driver, but the white crown of the past few TaylorMade models is now a conventional black.
Of note the Stealth Plus for professionals and low handicap amateurs has a sliding 10-gram weight in the sole to adjust ball flight for those with higher swing speed.